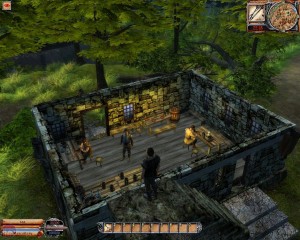 Érdekes ez, gondolok itt a szovjet és a nyugati gyártmányú villanyborotvákra, s a kettő közötti különbségre. A szovjet is működött, bár borotválkozás közben számítani lehetett egy áramütésre vagy vágott sebre. Végül is, az orosz konkord is felszállt, ugyan landolnia már nem sikerült. Valahogy így van ez a játékok terén is, akármikor kezembe kapok egy 1C, Buka vagy éppen Akella produkciót már a telepítés után bizonytalannak érzem a szoftvert. Az orosz játékipar ugyan termelt ki magából emlékezetes és nagyszerű projekteket is, de szinonimája lehetne az ócska, bugos, igénytelen játékoknak és a pocsék supportnak. Vissza kellett magam fogni, hogy első felháborodásomkor ne ragadjak klaviatúrát és kezdjem el a keleti front mocskolását, ám még így is erősen rendhagyó lesz az ismertető hangvétele. A GameDroidon megtalálható az "A király visszatér" ismertetőm, amelyben egy végletekig igénytelen 1C és DVS alkotást mutattam be. Akkor még nem gondoltam, hogy van ennél nagyobb szívatás. Pedig van!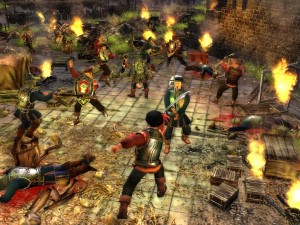 Itthon a Hard to be a God szerencsére nem talált forgalmazóra, így az egyszeri játékos nem valószínű, hogy belefut, csak az olyan idióta, mint én, aki látva a screeneket, olvasva külföldi lapok előzeteseit azonnal rámozdult az első letölthető verzióra, amelyet az egyik legnépszerűbb online játékboltról pár csekély Euro ellenében már telepíthetett is. Hiba volt. Nehéz az isteni lét, hát még egy olyan borzalmas játékban bolyongva, mely szinte minden virtuális sarkon tartogat meglepetéseket; kicsi, idegesítő bogarak formájában. Pedig kis túlzással a Hard to be a God akár az "orosz Witcher" is lehetett volna, ugyanis adott volt egy fantasztikus sztori és világkép, amelyet anno a híres szovjet sci-fi szerzőpáros Arkagyij és Borisz Sztrugackij alkotott meg még a hatvanas években. Ebből eredendően egyedi játékot is kreálhattak volna, hiszen a Hard to be a God kapásból két párhuzamos "univerzummal" operál. Egy 16-17. században megmaradt bolygó és annak édestestvére, a technikailag messze fejlettebb Föld. Nem akarok belemenni a sztori és a háttértörténet elemzésébe, csak érzékeltetni szeretném, hogy a Burutnak nem mindennapi háttéranyag állt rendelkezésére.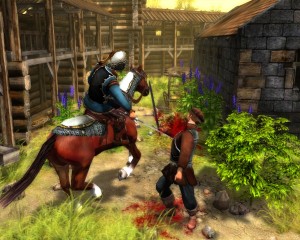 Ám amit lehetett, mindent elszúrtak. A játék első idegesítő pontja maga a nézet. Karakterünket hátulról-felülről szemlélhetjük és a szokásos WASD leosztással irányíthatjuk. A túlságosan felülről kapott kameranézeteknek köszönhetően viszont csak maximum tíz lépésnyire láthatunk előre. Az egérgőrgőzést el is lehet felejteni, semmi értelme. Én inkább belenyúltam a konfigurációs fájlba és átállítottam a kameraszög minimum és maximumát, hátha nyerek vele valamit. Igen, tapasztalatot, hogy ne buzeráld az ini és cfg kiterjesztéseket… Na jó, nem, azért picit javult az összkép.
Miután megvívtuk első harcunkat a játék kamerájával, egyre több idegesítő elem üti fel a fejét. Primitív harcrendszer, végletekig leegyszerűsített karakterlap és totális optimalizálatlanság. A Hard to be a God grafikája alulról súrolta a 2007-2008-as szintet, ennek ellenére úgy zabálta a PC erőforrásait egy-egy nagyobb területen, ahol több a mozgás is, hogy nevethetnékem támadt… szánalmamban. A szerepjátszás pedig kimerült abban, hogy az általunk alakított királyi kém olykor ruhát cserél, s így férkőzik be bizonyos körökbe. Csakhogy, amíg Varsányinak könnyű dolga akadt Egervár ostromakor, hiszen elég volt török ruhát húznia, addig nekünk nem árt minden sarkon más göncbe vedleni.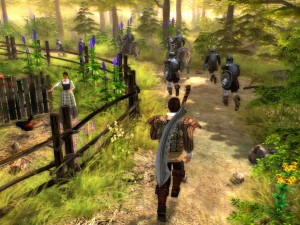 Így, ha a parasztnak akarunk segíteni, előtte érdemes lecserélni a tolvaj ruhát zsoldos göncre stb. Egy idő után borzasztó idegesítővé válik ez a fajta "kémkedés", ráadásul nevetségessé is teszi az egész játékot és a karakterünket. Ugyan ki hinné el, hogy egy városban meghal három ember, aztán hopp, ja nem, mégis él, mindhárom, bár mind a nap más-más szakában. Sajnos bármennyire is hangoztatták, hogy márpedig ez egy igazi szerepjáték lesz, szabad választásokkal, olyannyira lineáris az egész játékmenet, hogy szinte mozdonyként robog a történet egy előre lefektetett sínpáron, bármi váltó nélkül. A cselekmény beindulását pedig abból vehetjük észre, hogy minden második fontos NPC-nek szófosása van. Egy-egy paraszt többet beszél, mint Sean Bean az Oblivionban.
És akkor jöjjön a legdurvább feature! Gyakran előfordul a játék során, hogy bizonyos, a küldetések teljesítéséhez elengedhetetlen szereplők egyszerűen eltűnnek. Itt vége a dalnak, ugyanis semmilyen konzolparancs nem segít a hibán. Patchet se keressünk, mert nagy valószínűséggel a legfrissebb verzióval játszunk. Európai patchet nem találtam! Az oroszok foltozgatták maguknak ezt a sza* játékot, de sem a Burut, sem a Nobilis, sem pedig az Akella nem osztotta meg a javításokat az imperialista nyugattal. "Van orosz patch, töltsd le, aztán vagy megy vagy nem!" Nem ment! Miután elhatároztam, hogy újratöltöm a játékot, és megpróbálom végigszenvedni más sorrendben a küldetéseket, végül sikerült elérnem azt a csókát, aki kulcsszereplője a főküldetés újabb epizódjának, aki az előző mentett állásomban ugye eltűnt. Korai öröm volt, mert itt még nem ért véget a tortúra!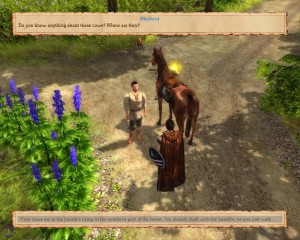 Miután valóban kezdted átélni a sztorit, szépen fejlesztgetted karaktered, mit ad Isten, nem enged menteni! Ez kérem vicc! Végigpróbáltam tucatnyi attribútum módosítást, ini és cfg fájl kotorászást, a játék az 5. helyszín után nem enged menteni! Sem gyorsmentést, sem menüből való mentést! Érdemes Google-t kérdezgetni; ez egy ismert bug a bolti verzióknál is. Ennél a pontnál durván két órányi játékidő ment a levesbe. Szóval, ha végigszeretnéd játszani ezt a gyalázatot, érdemes beruháznod egy szerverre, amely jól bírja az állandó bekapcsolt állapotot, ja, és ne lépj ki a játékból… Ez volt az a bizonyos áramütés a szovjet borotvától… A Burut szerepjátéka iskolapéldája annak, hogyan lehet elszalasztani egy jó lehetőséget és hazavágni egy jó alapkoncepciót a felületes, igénytelen programozással. Végezetül néhány fórumokból kiragadt kommentár (bocs, angolul):
"Well that's all! This game is looks like a beta release, altough I bought the gamesplanet's downloadable english version."
"The Saman has "Nothing to talk about" and I cannot save the game."
"I'll never start again the game from the end of Arata's quest! No way!"
"Sucked anyway!"
"So I really f**ed up because I can do nothing, the games doesn't allow me to leave South Arkanar, it says that Phat is waiting for me so I cannot leave the place!"
"The conversation system is strange. If you don't hit the space button NPCs will stand there for up to two minutes until the dialog choices box shows up."
"There's pain on every front."
—Somesz—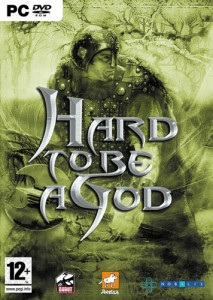 ím: Hard to Be a God
Fejlesztő: Burut
Kiadó: Akella
Honlap: http://www.hardtobeagod.com/ (nem elérhető)
Stílus: szerepjáték
Ami tetszett:
a világkép, de ez nem a fejlesztők érdeme
Ami nem tetszett:
értékelhetetlen
és én ezért pénzt adtam