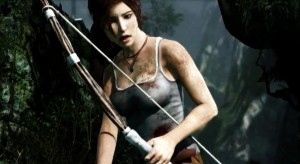 Tekintve, hogy a sztori szorosan összekapcsolja őket, úgy döntöttem, jobb egyben értékelni a Tomb Raider-sorozat Crystal Dynamics-féle trilógiáját. Jót is, rosszat is el lehet mondani róla, bár összességében többnyire pozitív véleményem alakult ki. Ugyan voltak olyan pillanatok, amikor az összes fejlesztőt visszaküldtem kilenc hónapra az anyjába, de minden jó, ha a vége jó.
Hol volt, hol nem volt, volt egyszer egy ugrabugra-csúszómászó játékstílus, amely nagyon-nagyon régen született, a mai fiatalok már nem is tudják, mivel játszanak valójában. Annak idején, amikor még elég volt egy hercegnő megmentéséért kalandra indulni és nem kellettek mindenféle effektek meg történeti csavarok, a platformerek megszülettek és meghódították a világot. A Donkey Kong (1981), a Mario Bros (1983) és a Prince of Persia (PoP, 1989) harminc éve nem ment ki a divatból, legfeljebb némelyikük nem kicsit megújult.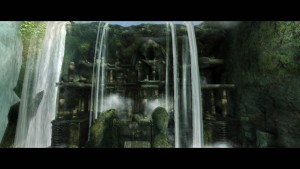 Ebbe a platformer trendbe tagozódott be, és játékmenetében leginkább a PoP-ra hasonlított az első Tomb Raider 1996-ban. Az istennői képességekkel megáldott Lara Croft 3D-vel felturbózott mássz-ugorj-kapaszkodj-lőj kalandja olyan jól sikerült, hogy nem csak brandnevet teremtett, de gyakorlatilag megújította a platformer műfajt és megvetette az ágyat egy rakás másik játéknak.
Nem megyek bele további történelmi részletekbe. A lényeg az, hogy egy fejlesztőváltást követően 2006-ban az Eidos kiadta a Tomb Raider: Legend (TR:L) című játékot, amely végül hozzám is eljutott. Folytatólagosan 2007-ben jött az Anniversary (TR:A) és 2008-ban az Underworld (TR:U), amelyek az elsővel együtt trilógiát alkottak és bemutatták, ahogy Lara Croft "a kis szobába toppané" és találkozik "rég nem látott" anyjával.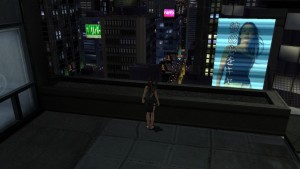 A TR:L elején Lara anyucija pontosan azt teszi, amit ma már minden ősi romnál figyelmeztető tábla tilt a turistáknak; megfogdos dolgokat és kiemeli azokat a helyükről. Pontosabban egy kőből készült kardot, amely nem mellékesen kulcs Avalon kapujához. Apuci, azaz Sir Richard James Croft veszettül keresi a módját, hogy utánamenjen és visszahozza, minek következtében afféle családi szórakozássá vált a műkincsrablás ősi romok közül, mindenféle halálos életveszélyek közepette.
Nagyjából ennyi az alap, amire a TR:L épít. Jöhet a móka: kapaszkodókkal és szakadékokkal teli romok között vergődsz át, ősi kultúrák motívumaival díszített, több ezer évesen is tökéletesen működő csapdarendszereket iktatsz ki, emellett majdnem minden pályán szinte menetrendszerűen megérkezik a nagy ellenség magánhadserege, amelyet Lara szemrebbenés nélkül lő szét.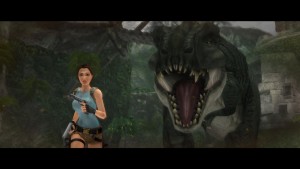 Tízes skálán értékelve moralitás nulla, következetesség nulla, játékmenet tíz, grafika… ehhrr… szóval a hátterek gyönyörűek, de Lara szegénykém annyira darabos, hogy időnként egyáltalán nem illik bele a képbe. Legyen a grafika tízből hetes, mert annyira azért mégsem zavaró a dolog. Az első két pont sokkal nagyobb problémát jelent.
A moralitás azért, mert egy 10-es korhatárnál az ember nem épp azt várja, hogy a főszereplő minden pályán legyilkol húsz ellenfelet. A másik meg azért, mert elvárnám, hogy egy frankón összerakott játékban akad némi következetesség is. Például ne szaladgáljanak könnyedén ellenfelek ott, ahol a félistennőként pattogó Lara alig bírt átugrálni.
Egyébiránt, a következetesség valahogy egyáltalán nem erőssége a sorozatnak. Érthetetlen módon ragadozók rontanak rád párosával, esetenként párducok és gorillák egyszerre — és nem csak az a kérdés, hogyan tudnak ilyen egyetértésben fellépni ellened, de az is, hogy hogyan maradhattak életben? Valahogy nehezen hiszem el, hogy egy föld alatti rom több emeletnyi mélységében kifejlett nagymacskák támadnak rám egy-egy apró falifülke rácsos ajtaja mögül. Vagy mondjuk végigugrálok egy járhatatlan folyosón, de visszafelé szembetalálkozom egy raptorral? Vagy végigküzdöm magam egy egész pályán, és a végén egy másik kincsvadász vár, aki egyszerűen csak átsétált minden nehézségen? Számtalan ilyen példa van a sorozatban, és ezek a következetlenségek egyáltalán nem teszik élvezetesebbé a játékokat.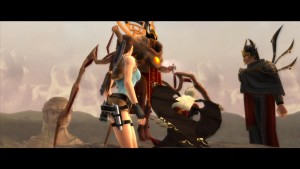 Másodsorban, a Tomb Raider: Anniversary az a játék, amit nyugodtan ki lehetett volna hagyni mind fejlesztői, mind játékosi oldalon. Csak a kiadónak érte meg, hogy megjelent ez a… rakás szar. Az első rész remake-je, rendben, ezt elfogadom. Sőt, sikerült úgy felépíteni a sorozatot, hogy ez a pusztán pályákból álló, történettel szinte alig rendelkező izé is beleférjen a közepébe.
Csakhogy! Szép dolog a visszaemlékezés meg a hűség a nagy elődhöz, csakhogy nem mindig sül el jól. Ugyanazt a száraz, aligzenés, történetmentes játékot, amely '96-ban még zsánert újított, 2007-ben már nem lehet ledugni az emberek torkán olyan nagyszerű mesék után, mint amilyeneket a platformer műfaj is kitermelt. Ráadásul az irányítás is olyan, hogy a billentyűzetem néha joypadnak képzelte magát, és a gyári kiosztáshoz sajátosan mutálódott kéz kellett volna. Végül sikerült mindent beállítani, de a Legend simulékonysága után egyszerűen nem tudtam mire vélni ezt a szenvedést.
Nem is szeretnék több szót vesztegetni rá, legfeljebb annyit érdemes még megjegyeznem, hogy a háromnegyedénél majdnem lemondtam az egész sorozatról. Elszántan kitartottam, és nem bántam meg, mert a TR:U sikeresen helyreállította Lara renoméját.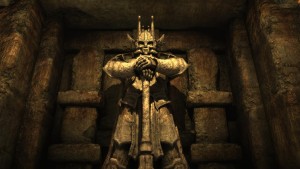 Az Underworld legnagyobb hibája az, hogy a trilógia harmadik részeként nem rendelkezik önálló történettel. Ugyan a pályákon sokkal kevesebb az érthetetlenül életben maradt ragadozó; a nagyvadak inkább nyílt terepen támadnak, míg a romok mélyére élőholtak és óriáspókok kerültek. Szintén következetesebb mozzanat, hogy a nagy high-tech felszerelés végre tartalmaz egy légzőmaszkot is arra az esetre, ha vízbe kellene merülni.
Veritix volt oly kedves és megjegyezte, hogy szerinte az újabb TR játékokban már nem kell annyit gondolkodni és nem elég nagyok a pályák. Nos, ez az Underworld esetében nem teljesen igaz. Kedvedre ugrálhatsz akár órákig is egy-egy pályán, és a feladványok egy része kifejezetten nehezen oldható meg. Ha az első részt újrahúzó Anniversaryvel hasonlítom össze, az Underworld akkor is jóval nehezebb — azonban ezt a műfajt ez teszi szórakoztatóvá, így a játék nehézségét véletlenül sem a negatív oldalra írom a listámon.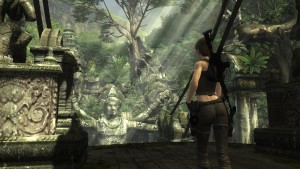 Azt még nem tudhatjuk, mit hoz a jövő a sorozat számára. Kijött egy Lara Croft and the Guardian of Light, ami bár szintén a Crytal Dynamics műhelyében készült, már a címében is jelzi, hogy nem tartozik szorosan a TR márkához.
Az Eidos azóta beolvadt a Square Enixbe, és 2013-ban megjelent a legújabb rész; ez viszont reboot, amelyben Lara sokat veszít szuperhősi státuszából és inkább szenvedő emberi lényként kerül a középpontba. A platformer ezáltal kicsit a túlélő(horror) műfaj felé kacsintgat, ami már az előzeteseknél kiborította a rajongók egy részét — mi meg majd egy külön cikkben kritizáljuk vagy dicsérjük, ahogy megérdemli.
—Garcius—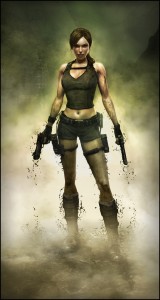 Cím: Tomb Raider Trilogy
Kiadó: Eidos Interactive
Fejlesztő: Nixxes Software
Honlap: —
Stílus: platformer, akció, kaland
Ami tetszett:
játékmenet
feladványok
Ami nem:
általános következetlenség