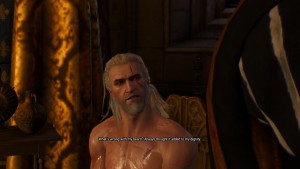 Ahogy az ilyenkor illik, visszaolvastam, mit írtam anno a The Witcher 2-ről. Összefoglalva: rövid volt és bugos, mégis sikeresen megújította a CRPG műfajt. A játékos annyira elmerült a csodálatos grafikában és az eseményekben, hogy még a terepek korlátozott bejárhatósága sem volt igazán zavaró. Mindehhez hozzávesszük, hogy a szerteágazó történet nem csak lehetővé, de szinte kötelezővé tette az újrajátszást, és így máris érthető, miért vált a játék annyira népszerűvé.
Az is tökéletesen érthető, hogy a sorozat ilyen erős folytatása után miért várt mindenki nagyon-nagyon sokat a harmadik résztől. Előrebocsátom, hogy meg is felelt az elvárásoknak, viszont pont emiatt alakultak ki bizonyos hibái.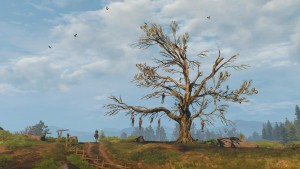 A The Witcher 3 (TW3) -ról az volt az első benyomásom, hogy olyan, mintha a második rész free roam változatának készült volna, csak még nagyobb és még szebb. A szabadságfaktor óriási, néhány sztorihelyszín kivételével bárhová elmehetsz, bárkivel beszélhetsz, és gyakorlatilag minden szintfüggetlenül elérhető. Mindezt két akkora területen kapod meg, hogy csak a hozzám hasonló felfedezők ütköznek bele a határokba, miután órákat hajóztak-futottak-lovagoltak mindenféle tengereken, pusztákon, erdőkben és hegyoldalakon. A terep tényleg óriási és változatos.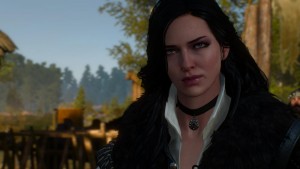 Valószínűleg pont emiatt nem sikerült megoldani, hogy a történet ugyanúgy elkülönülő szálakon fusson, mint a második részben, és ezzel újrajátszásra ösztönözze a játékosokat. Nekem ez hiányzott. Igaz, hogy egyes döntések következményei csak hosszabb távon válnak láthatóvá, és ez is segít élővé tenni a világképet, de egyszerűen nem bántam meg a döntéseimet, így semmi sem motivált az újrajátszásra. Amúgy is közel áll hozzám a semlegesség, és általában véve Geralt elvei, ezért nem öltem meg értelmes szörnyeket, és nem érdekelt, ha egy falu fanatikus, elvadult lakosságát kiirtották a saját bálványaik. Előtte még megpróbáltam meggyőzni őket, hogy hagyják el az Erdő Úrnőit (három igen ronda és gonosz boszorkány), de nem tették, így saját maguk okozták a vesztüket.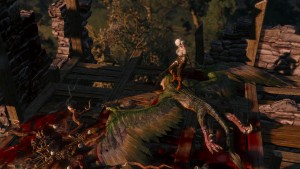 Ugyanez jellemző volt minden küldetésre. Nem hazudtam csak azért, hogy mentsem a bőrömet vagy megmentsek valakit, aki nagyon is megérdemelte a sorsát. Hazudtam viszont azért, hogy a kényszerűen tolvajkodó alakváltó vagy a rasszista városőrök által üldözött szukkubusz-kurva elhagyhassa a várost. Ebben a játékban az embereket sajnálod a legkevésbé, szinte már várod, hogy mikor vághatod el egy-egy mocskos szájú, fajgyűlölő barom torkát.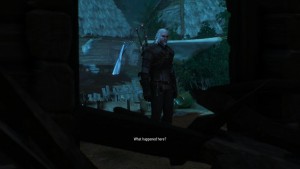 És ha már vágás… A harcot kiválóan kiegyensúlyozták, egészen addig, amíg fel nem szedsz néhány extra képességet. Attól kezdve, hogy félre tudod csapni a nyilakat, gyakorlatilag tömegeket darabolhatsz le. (Szokás szerint normál nehézségen játszottam.) Amíg találsz nálad magasabb szintű ellenfelet, addig kisebb-nagyobb mértékben szükség van a reflexeidre, hiszen akár egy-egy nagyobb erejű ütés is elég, hogy komolyabb mennyiségű életpontot veszíts. Egy küklopsz érthető módon három ütéssel lenyom, de ha ügyesen kitérsz, akkor legyőzheted. És ez is majdnem szintfüggetlen.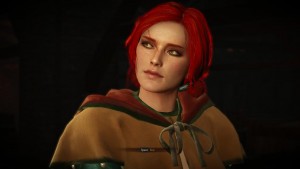 Itt jön a következő probléma. Mivel némi ügyességgel, jó reflexekkel és néhány alkímiai keverék segítségével akár nálad tíz szinttel magasabb szörnyekkel is el tudsz bánni, a jobb játékosoknak kb. a 25-28. szinttől kezdve nincs komoly ellenfele. A fő történet nagyjából a 33-35. szintig ad feladatokat, és a specializált witcher felszerelések is eddig vannak szintezve. Gondolom, a kiegészítőkkel majd tovább tolják az egészet, de a fejlődés során az alapjáték fokozatosan egyre kevesebb kihívással szolgál. Ez is hiányzott. Amikor már tele voltam jó kis képességekkel, nem volt ki ellen használnom őket.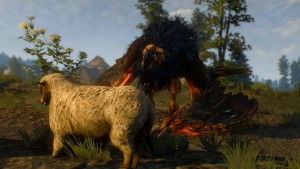 Persze, ehhez hozzátartozik, hogy a képességek összeválogatása segítségével teljesen egyéni karaktert faraghatsz Geraltból. Egyéni harci stílust alakíthatsz ki, amit szívesen használsz. Jó, értem én, hogy egy tapasztalt witcher nem lehet gyenge harcos, és ezt össze kellett egyeztetni azzal, hogy a CRPG-zsáner megkívánja a karakterfejlesztést, ráadásul még egy kis kihívást is akartak adni a játékosoknak, de ez a hármas (tapasztalt főszereplő – karakterfejlesztés – kihívás) elkerülhetetlenül önellentmondáshoz fog vezetni. Eleinte nem látszik a karakter képességein a tapasztalat, utóbb pedig a kihívási fok csökken nagy mértékben. Nagyjából a játék közepén érzed azt, hogy már nem kínlódsz túl sokat a komolyabb ellenfelekkel, de még mindig elegendő kihívást találsz a világban.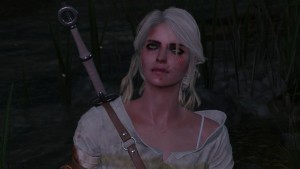 Szerencsére, egy eleve 100+ órásra tervezett játékról van szó, amelynek csak a közepe simán 50+ óra játékidőt jelent, úgyhogy az imént említett tökéletes rész alaphangon is túltesz egy rakás más játékon. Maga a fő történet önmagában véve nagyjából 25 órányi játékélményt biztosít, és akkor még ott van mellette a sok mellékküldetés, kincskeresés, szörnyvadászat.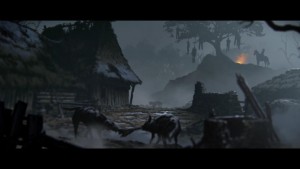 És itt jön a következő problémám: 80-90 órányi játék után már nem bámulod leesett állal a tájakat, nem olvasol el minden egyes szöveget és nem érdekel, hogy milyen ellenféllel akadsz össze. A küldetések nem kötnek le többé. A kincsvadászatok során magánszorgalomból begyűjtöd a jobb cuccokhoz szükséges recepteket és leírásokat, el is készítteted, amit kell, de már csak megszokásból melózol vele. Pénzre semmi gondod, 15-20K-ból eljutsz a legdurvább cuccokig, és ennek a dupláját sem nehéz összeszedni. A szerződések szinte tök egyformák; helyszínelés, egy kis nyomozás, esetleg nyomkövetés, harc. Jó esetben az alkotók kitaláltak valami érdekes befejezést egy-egy feladatsor végére, de a szerződéses küldetések menete mindig ugyanez. A mellékküldetésekben még azért van elég kraft, hogy egy darabig elszórakozz velük. Egész jó kis történeteket ismerhetsz meg és játszhatsz végig, de hosszú távon már ezek sem kötnek le igazán. A kártyajáték meg szóra sem érdemes, engem legalábbis nem kötött le annyira, hogy belekezdjek akár az első kapcsolódó küldetésbe. De nem számít: a Gwent pakli gyűjtögetése nélkül is kereken 125 órát játszottam az alapjátékkal és az ingyenes kiegészítőkkel.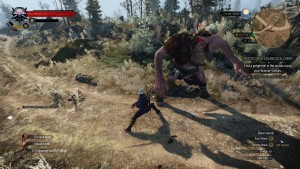 Nem tagadom, hogy élveztem a TW3-at, de sajnos nem végig. A mai játékpiacon kiemelkedő teljesítmény egy nyugati RPG-től, hogy a 100+ órás játékok közé sorolhatjuk, de ugyanaz a hibája, mint sok másik hosszú játéknak; ezt az időmennyiséget nem sikerült megtölteni olyan tartalommal, amely nem válik megszokottá, változatos, és folyamatosan kihívást jelent.
—Garcius—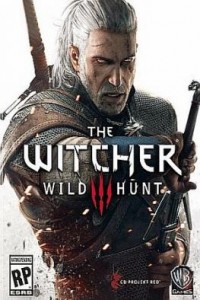 Cím: The Witcher 3: Wild Hunt
Fejlesztő: CD Project RED
Kiadó: CD Project RED
Honlap: http://en.thewitcher.com/
Stílus: CRPG
Ami tetszett:
majdnem tökéletes
Ami nem tetszett:
hosszú távon megunható