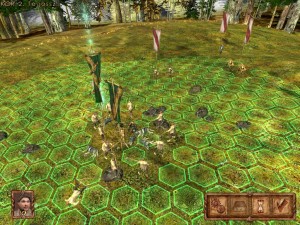 Amit e pillanatban "papírra" vetek, abból nyugodtan gondolhatjátok, hogy egy mazochista állat vagyok! Ugyanis igen mélyen belenyúltam a budget kosárba és sikerült hozzájutnom néhány orosz borzalomhoz. Szerencse, hogy a játékiparban Oroszország ugyan meghatározó, de korántsem olyan nagy hatalom, mint amilyen a néhai Szovjetunió volt a történelmi játszmák során. Komolyan; adjatok hálát az égnek!
Mielőtt belekezdenék az "orosz microsoft"-nak is becézett 1C kiadó és a DVS fejlesztőcég módszeres gyalázásába, először egy kis hazai pofon. Nem tudom, hogy a seven M magyar forgalmazó hogyan, milyen jogi kerülővel tudta Tolkient és a Gyűrűk Urát ilyen pofátlanul meggyalázni, hogyan tudott büntetlenül lopni!? Az Ascension to the Throne címet akárhogy is fordítom, nem azt kapom, hogy A király visszatér. Ennek ellenére a seven M ilyen címmel jelentette meg hazánkban a DVS körökre osztott stratégiáját. Gondolom, nem kell ragoznom, hogy a játéknak az égvilágon semmi, de semmi köze nincs a Gyűrűk Ura trilógiához. Sőt, semmihez! Egy üres, ötlettelen, mindenhonnan összelopott elemekből felépített, felületes fantasy történetet kapunk, ha belekezdünk a játékba. Hozzáteszem, ne tegyük!
Főhősünk egy Alexander nevet viselő, trónfosztott király! Értitek, Alexander, a király! Nyugodtan lehetett volna ilyen erővel Nagy Sándor is, de gondolom, mivel Nagy Sándor nem úgy nézett ki mint egy germán harcos, ezért inkább maradtak az üres, semmitmondó Alexander névnél. Ugyan, mi beértük volna szimplán egy Sanyival is!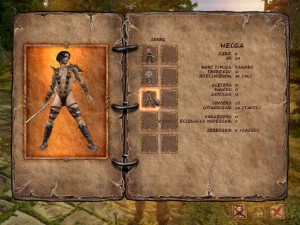 Az egyébként nem rossz bevezető videók után kezdődhet is a játék! A DVS újítani szeretett volna a körökre osztott stratégia játékok világában, ezért hősünket egészen közelről, "nézd a hátam" módban irányíthatjuk a térképen, valós időben. Mászkálhatunk falvakban, erdőkben, ezáltal egy kicsit egyszemélyes szerepjáték-érzetet keltve. Nem volt ez rossz ötlet, de mint tudjuk Oroszország hatalmas. Olyannyira, hogy szerintem maguk sem tudják hol az eleje, hol a vége. De hogy ezt miért kell még a játékaikban is érzékeltetni, azt nem tudom megmondani. Az egész játékmenet 80 százaléka nem áll többől, mint hogy hősünkkel mászkálunk egy baromi nagy térképen, és alig várjuk, hogy végre csatába keveredjünk. Nem hazudok, volt, hogy közel 5-10 percet kellett gyalogolnom, hogy elérjek A-ból B-be! Még ha beletették volna a klasszikus orosz tet is, mondjuk 5 perced van elérni a városba, különben megfagysz, na akkor lett volna az igazi! De persze enélkül is jól teljesített a játék, 1-2 óra alatt elérte, hogy száműzzem a távoli Szibériába!
A körökre osztott stratégiák világában kevés játék tudott hírnevet szerezni, hiszen az olyan klasszikusok mellett, mint a Heroes of Might & Magic, Age of Wonders, vagy az orosz Disciples (ezért kivételesen köszönettel tartozunk nekik), kevesen rúghattak labdába. A három nagy név szinte egyeduralkodó volt, és még talán mind a mai napig az is maradt. Mindenesetre a DVS megpróbálta! Igen, 2007. év elején egy 3-4 éve elavult grafikával, unalmas játékmenettel, aránytalan harcokkal, igazságtalan harcrendszerrel, gyalázatos fantasy világgal, bugyuta szintlépéssel, amelyben Alexander, a trónkövetelő, szamurájokkal, római madárjósokkal, légiósokkal és középkori számszeríjászokkal karöltve száll harcba az ország egyesítéséért!
A játék extra vonzerejét viszont az adja, hogy itthon 18+ besorolást kapott. Nem tudom megmondani miért! A vér és az erőszak elenyésző, és nem beszélnek csúnyán, Alexander nem drogozik, akkor mi lehet a gond!? A borítót jobban megnézve végül szembesülhetünk egy páncélbugyis, húsz évesen kiégett, szőke harcosleánnyal! Ezek a szépségek a játék során többször is feltűnnek, sőt, hősként is csatlakozhatnak hozzánk, amíg ki nem dörzsöli a páncélbugyogó és a páncélmelltartó az elsődleges nemi jellegeiket. Szóval ezek miatt a hölgyek miatt kaptunk 18+ besorolást? Passzolok, de tényleg. És passzolom ezt az egész borzalmat a kukába. Kár érte, mert érződött a készítőkön a lelkesedés és az újítani akarás, hogy egy picit felkavarják a körökre osztott stratégiajátékok állóvizét, de sajnos csak felkavarták. Mármint a gyomromat.
—Somesz—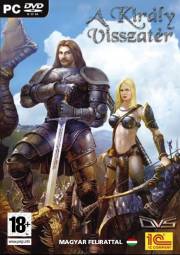 Cím: Ascension to the Throne
Fejlesztő: DVS
Kiadó: 1C
Honlap: N/A
Stílus: körökre osztott stratégia
Ami tetszett:
borítón a szőke szépség
az elképzelés jó lett volna…
Ami nem tetszett:
de a megvalósítás maga a borzalom