American James McGee korunk egyik sajátos játéktervezője. A Doom és Quake fanok már régóta ismerhetik a nevét, de engem jobban megfogtak azok a projektjei, amelyek a saját fejéből pattantak ki. Imádtam a Scraplandet, élveztem az Alice első részét, és bár a Bad Day L.A. megbukott, a Grimm elég sajátosnak tűnik ahhoz, hogy megérjen egy próbálkozást.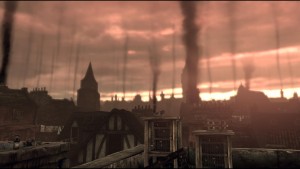 No, de itt az Alice második része, és ahogy a cím is mondja; Madness Returns, azaz visszatér az őrület. Épp csak 11 év telt el az első rész óta, és ez bizony meglátszik a játékon. Míg az American McGee's Alice inkább csak kifordította, a pszichózisos-tudathasadásos kislány fantáziavilágává degradálta Csodaországot, addig a folytatás sokkal keményebben üt.
Az első részben Aliz a saját elszabadult, gonosz szuperegóját, Csodaország Szívirálynőjét (Queen of Hearts) győzi le. Miután a házuk leégett, Aliz szó szerint beleőrült családja elvesztésébe, és a diliházban senyvedve Csodaország egyre inkább beszippantja. Azonban ez a világ az ő saját elmeszüleménye, így józanságát elveszítve is csak egy horrorisztikus Csodaországot járhat be.
A történet folytatása is a való világban kezdődik. Alice Lidell Londonba kerül, ahol Angus Bumby pszichiáter veszi kezelésbe. A tűz miatt meggyőződésesen önmagát hibáztató lány nem sokat törődik a valósággal, főként, hogy a jó doktor hipnózissal próbálja törölni az emlékeit. A figyelmes játékosnak már az is feltűnhet, hogy mennyi őrült gyerek szaladgál Dr. Bumby kis lelencházában, és a játék során ki is derül, miért épp az aprónéppel foglalkozik a fickó. Nem szeretném lelőni a történet csavarjait, de annyit talán elárulhatok, hogy Csodaországban járva Aliz fokozatosan újra felfedezi emlékeit a tűz éjszakájáról és idővel eljut a fantáziabirodalmát fenyegető veszedelem forrásához.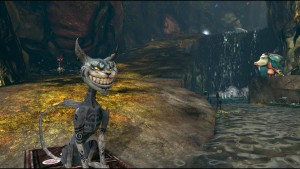 Eközben tipikus csodaországi karakterekkel találkozik, akik persze némileg átalakultak az idők során. A leány is idősebb már, inkább emlékeztet a harcos szüzek gótikus kiadására, mintsem arra a bizonytalan kis felfedezőre, aki Lewis Carroll könyveiben bejárta a képzelet világait. Ehhez illően az Őrült Kalapos (Mad Hatter), a Fehár Nyúl (White Rabbit), az Ács, (the Carpenter), a Hernyó (the Caterpillar) és a többiek a fantasy, a gótika és a gőzpunk különféle stíluselemeit mutatják, természetesen némi horror beütéssel megfejelve.
Aliz világa torz és őrült, minden része más és más. Japán legyezőkön ugrálsz, lüktető vérerekben rohansz, lerombolt kastély lebegő maradványai közt keresel kiutat, a viktoriánus London szétzuhan körülötted, vagy épp groteszk babaházak során keresztül próbálsz eljutni a célhoz. És akkor a vonatot még nem is említettem.
A macska segít. Ahogy segítségedre van a megbízható Vorpal Blade is, ami egyébként lefordíthatatlan, Weöresnél "nyüsztő kard", Tótfalusinál "döfke kard" szerepel a Gruffacsór (Weöresnél Szajkóhukk) című versben. A játékban az első részből ismert szeletelőkés ez, amit kiegészíthetsz egy falovacskával (Hobby Horse), egy borsszóróval (Pepper Grinder) és egy teáskanna-ágyúval (Tea Pot Cannon).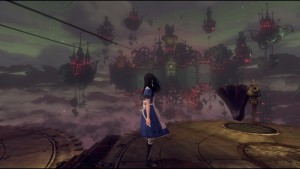 Így felszerelkezve, illetve némi ügyességgel és taktikai érzékkel a normál fokozat nem túl izzasztó. Néhány szemét ellenfél (főleg a kalózok) kivételével a legnagyobbak ellen is bátran ki lehet állni. Csak találd meg, hogy melyik ellen milyen fegyverrel lehet a leghatékonyabban harcolni, és ezután már főként helyezkedés/időzítés kérdése az egész. Jah, és persze kitérés kérdése, merthogy ez az egyik legfontosabb harci képességed. Ha pedig minden kötél szakad, még ott a hisztéria, mint utolsó lehetőség.
Összegezve: Az Alice-sorozat második része nem kapott olyan jó kritikai fogadtatást, amilyet megérdemelt volna. Egyesek szerint az első utánzata, de csupán hasonló elemek fedezhetőek fel, konkrét utánzás nincs. Mások szerint itt-ott vontatott, de amely részeket megemlítették, én pont ott jutottam át gyorsan, szóval inkább csak arról lehet szó, hogy nekik épp akkor nem ment jól a dolog.
Még ha be is hódolnék az ellentétes véleményeknek, akkor sem tudnám leértékelni, mivel a világkép mindenképpen kiemeli az átlagos kalandjátékok sorából. Hozzáteszem, hogy éppenpont a világkép a lényeg, és minden más, a történet és a játékmenet másodlagos szerepet kap. Ha ezt nem vesszük figyelembe, akkor nincs miről beszélgetni.
—Garcius—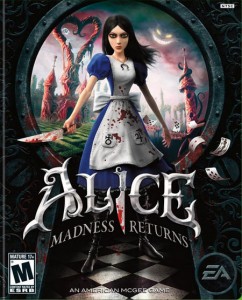 Cím: Alice: Madness Returns
Kiadó: Electronic Arts
Fejlesztő: Spicy Horse
Honlap:  -törölve-
Stílus: TPS, platformer, horror
Ami tetszett:
világkép
karakterek
játékmenet
Ami nem:
hosszú távon kicsit egysíkú