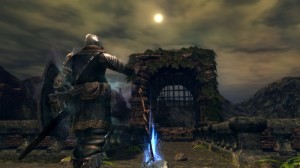 Much water was flowing down on any river of Lordan or even on a gutter of glorious Anor Londo, and this time was filled with as much blood, defeat, victory and experience. And with four playthroughs, which, in the case of Dark Souls, is a really big thing. Chiefly, because one has less and less time for games, especially when they require such deep immersion as Dark Souls.
The first try was hard, yes? Did you do it? Did you sweat through the hardest game of all time? (In fact, it is the hardest of the new generations.) Furthermore, do you dare to say it wasn't so hard? Well, adventurer, there is a New Game+ option for you, in which you can restart the whole game with your achieved levels, acquired skills and items. You are the hero, you are strong, brave and hard to defeat, so let's go!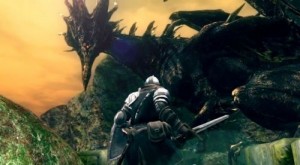 Then think it over again after the seventh defeat from one of the first opponents in a corner of the first dirty dungeon. Do you really need this? Is this what you wanted? But really, how could a lvl100 hero bleed out in a place where you were the merry butcher earlier?
If the answer is yes, then you started Dark Souls for real. Take the whole first playthrough as a tutorial, training, or as an easy walk in the park, because the "Prepare to die" motto just got its meaning.
I will never forget the feeling when a stone-hard critter chased me over three areas (when you normally play, it takes several hours to get through an area), it came after me through stairs and ladders, and nothing could stop it. Finally, when I thought I shook my pursuer off, it finished me with one blow from behind. Hello, Dark Souls, hello Death!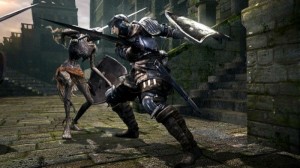 Well, the point is taken. Dark Souls is hard for the first time, makes you sweat mercilessly. But for the second time, moreover, the third and (God saves us) the fourth time it becames so hard that may be called inhuman. But I wanted this, really, and I do not want to polish myself. I sought this: a meaty, bloody, raw game with unparalleled atmosphere that brings back the hardest gaming remembrances from my childhood. Was the old games harder than the new ones? Yes. How much? A lot. And Dark Souls gets this feeling perfectly.
Now, at the end of the adventure the fourth time, I do not start it over again just because there is a sequel, and of course I won't give up playing forever, but this epic one is unrepeatable. Or, will Dark Souls 2 repeat it? We will see, but after the fourth playthrough of the first one I can give you a Droidscore I honestly believe in.
Although the port for PC would get only a strong average, a graphical patch and a good controller gives you such unforgettable experience that would be a loss to miss. Console gamers should be really proud of Dark Souls. Even badly ported the PC game was such a success that the sequel came out for different platforms at the same time, and not as a port, but as an original. Take a look at it!
—Árnyék—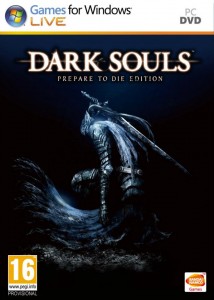 Title: Dark Souls: Prepare to Die Edition
Publisher: From Software, Namco Bandai
Developer: From Software
Homepage: canceled
Style: horror, RPG, hack'n'slash
What I liked:
it will be one of the hardest adventures of your life
atmosphere, music, graphix, Lordan, as they are
What I didn't like:
awkward PC port, (but it can be patched)