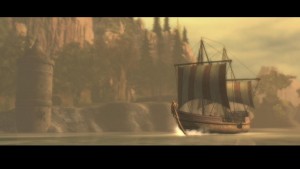 Imagine what Baldur's Gate would be if upgraded with modern, three-D graphics and some German precision. The River of Time (TroT) is based on the system and world settings of a PnP RPG famed as German D&D, and broadly speaking, it gives you the experience I've tried to catch in the first sentence.
I suppose it was not a very good business decision to publish a game that can catch only a smaller part of a smaller part of the gamer audience in general. In the same time, this tiny group of gamers will rank it among the ten best CRPG of all time. But not because it is really one of the bests. It's a decently manufactured stuff, all right, but it doesn't punch too much weight. But the experienc is fascinating.
Honestly speaking, Baldur's Gate has no special place in my heart. I have several problems with it; at the end I felt like trying to brawl myself out of the nightmares of a power maniac Dungeon Master. There was no catharsis, no satisfaction from the well-finished adventure. To tell you an example, Icewind Dale was much more balanced.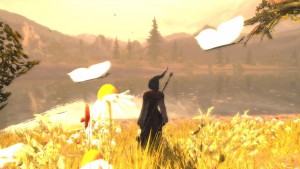 Of course, I don't mention these two games at random. In spite of every flaw they have and beside every merit they have, their most important characteristic is that they symbolize a sort of barbaric-heroic age of computer role-playing games. Compared to the latest CRPGs they are like Conan books compared to the Earthsea series. If you doesn't know/understand what I babble here, don't mind about it, but I tell you that perhaps you won't be able to handle TroT on its place.
Because its rightful place is on the neo-barbaric-heroic shelf, and it has not too many companion there. You can put the first episode (Drakensang: The Dark Eye [TDE]) there, and maybe the recently released Legend of Grimrock too (although it is more like a neo-antique thing), but I don't know more.
Just a brief summary: The prehistoric age of CRPGs was marked by text-only games, and the transition to a new era can be characterized by Eye of the Beholder, Champions of Krynn and the early Ultima series. Then came the CRPG ancient times, which I prefer calling barbaric-heroic, because the games were delicate like Greek myths and raw like Norse sagas in the same time. So, that's where I put Baldur's Gate and that is where we can find the roots of Drakensang games released after 2000.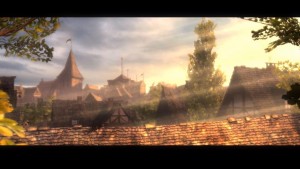 The RPG base of Drakensang was released in 1984 by the title Das Schwarze Auge (DSA), and it was something like a German answer to American D&D (just like Runequest from Breat Britain). Accordingly, it has a terribly complex rule system that didn't bothered German players at all – it even attracted them. Not surprisingly, by the way, because it sacrificed all simplification for detailed simulation, and it excellently absolved this task.
Considering German mentality no wonder the hyper-complex rule system was cut only by a bit for the computerized version. The most simple fighter has at least four pages of character sheets (all right, one of them is for the equipment), and magic-casters use five pages – and crafting recipes need another one. Add the subpages for combat skills and recipes, and now the most basic fighter has an at least six pages character sheet.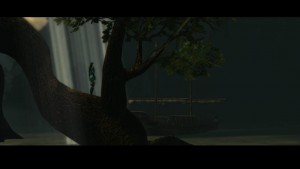 But don't be scared; the developers knew that you don't want to spend half a year with learning the rule system. By simply pointing with the mouse the game highlights every related stuff on the actual page, and a right click shows the full description of the given attribute, skill, feat or spell. This way it is relatively easy to calculate what and how you want to develop the characters.
And calculations are needed, that's a fact. Experience is not just for leveling but for getting spendable points too, but only fighters can find it enough for maximized development. The resolution is simple as always; specialize! The elf chick (Fayris) is a good healer and archer, the dwarf (Forgrimm) is the most reliable and always needed companion, and the thief (Cano) will search/disable traps – Fayris as able to do it too, but she should shoot arrows and cast spells instead, because these two activity can take away a lot of points. At the end it will be obligatory to bring him with you, so before the last series of quests you should check the training and equipment of Ardo the warrior noble. I suggest you to divide the three kinds of crafting between the not magician characters; they more likely to have enough points for development.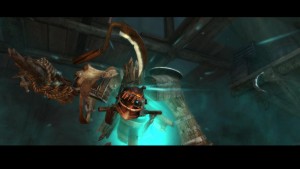 The story of the game is not exceptional. Although you have to cut yourself through a lot of opponents while you are investigating the who and why about that goddamned stolen crown, in the long run an intricate tale is threaded around your character. This is emphasized by the game with the method of storytelling, because the moodtexts between the chapters are, without exception, quotes from Forgrimm as twenty years later he tells the daughter of Cano and Mora (she comes later) about this adventure. Maybe it was a little spoiler, but if you played The Dark Eye, you can recognize them even in the first scene.
Anyway, regarding the characters the developers did a great job. Besides, it's not a negative point but neutral at best that the gameplay is built on the adventuring-with-a-team standard (like in BG), and the system wasn't invented, "only" programmed in ho however, the whole environment praises the developers.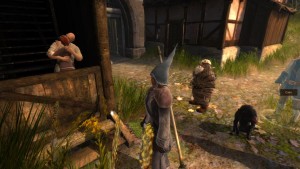 No, I'm not writing about the graphics, even if it is beautiful enough. It's rather about the world around the characters, and about how detailed it is. Maybe it comes from the German precision again. Butterflies fly above the meadows, deers jump away frightened when you go too close, and among the ruins rats run into the crevices. In the city of Nadoret an angry woman chases her man on the streets, children are playing here and there, kitten are staring at fishes on a pier at the docks. I was sitting before the computer to see what our cat wants, why is it meowing again, and I realized lately that the noise came from the loudspeakers. I found even a kissing couple under a lean-to near a wall. You can rarely find such a living world in a computer game.
I was mooning about it a lot and at last I found I give this game ninety percent wholeheartedly. The quests can become monotonous because there are too much combat, the last battle is fucking hard and full of repetition, which I hate because a whatsoever hard bossfight may be enjoyable only if it's stylish, and it isn't. The gameplay is obsolete, let's say it's out of fashion, but it's working well, so this is almost beside the point. However, immersion makes you forget every flaw; the world is elaborated beyond measure, it is almost perfect; and the tale goes on several strings simultaneously – your actions cause changes, and these changes lead to new adventures even on the already visited areas.
It is a must have if you like those CRPGs which call for some serious brain activity.
—Garcius—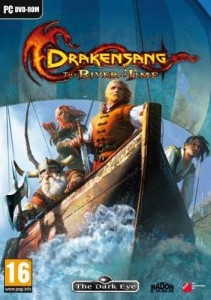 Publisher: DTP Entertainment, THQ
Developer: Radon Labs
Homepage: the original is already canceled
Style: role-playing game
What I liked:
elaboration of the world setting
characters
storytelling
What I didn't like:
too much combat makes it monotonous at some points