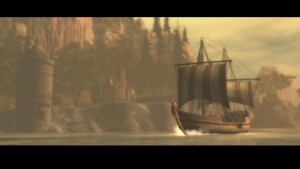 Képzeld el, milyen lenne a Baldur's Gate felturbózva modern, háromdés grafikával és németes precízióval. A német D&D-ként elhíresült PnP RPG rendszerére és világképére építő The River of Time (TRoT) nagyjából ilyen élményt nyújt.
Előrebocsátom, hogy üzletileg talán nem volt túl jó ötlet kiadni egy olyan játékot, amely a rétegközönségen belül is csak egy kisebb réteget foghat meg — ugyanakkor ez a kisebb réteg garantáltan besorolja minden idők tíz legjobb CRPG-je közé. No nem azért, mert tényleg a legjobbak egyike. Decensen összerakott cucc, oké, de nem ugrik meg túl magas léceket. Viszont az élmény lenyűgöző.
Őszintén szólva a Baldur's Gate nem a szívem csücske. Annyira nem, hogy számos bajom van vele; a végén már úgy éreztem magam, mintha egy hatalommániás szerepjáték-mesélő rémálmaiból próbálnám kiverekedni magam. Nem jött a katarzis meg a jól befejezett kalanddal együtt járó elégedettség. Például az Icewind Dale sokkal kiegyensúlyozottabb volt.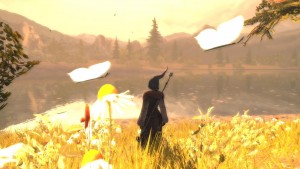 Természetesen nem csak úgy vaktában emlegetem ezt a két játékot. Minden hibájuk ellenére és minden erényük mellett ma az a legeslegfontosabb tulajdonságuk, hogy jelképezik a számítógépes szerepjáték műfajának afféle barbarikus-hősi korszakát. Nagyjából olyanok a mai CRPG-k számára, mint a Conan könyvek a Szigetvilág-sorozat számára. Aki nem tudja/érti, miről gagyogok, az ne foglalkozzon ezzel, bár valószínűleg a TRoT-ot sem lesz képes a maga helyén kezelni.
Ez a hely pedig egyértelműen a neobarbarikus-hősi polc, amelyen nem sok társa akad. Az előző részt (Drakensang: The Dark Eye, [TDE]) még oda lehet tenni, meg talán a mostanában megjelent Legend of Grimrock is odakerülhet (bár ez inkább neo-antik), de hirtelen nem jut eszembe több.
Csak rövid áttekintésként: az őskort a szöveges szerepjátékokkal, az átmenetet az Eye of the Beholder, a Champions of Krynn, az Ultima-sorozat eleje és társaik jelentették. Ezután következett a CRPG ókor, amelyet szívesebben nevezek barbarikus-hősinek, mert az ekkoriban kiadott játékok egyszerre voltak görög mítoszosan kifinomultak és az északi sagákhoz hasonlóan nyersek. Tehát ide sorolom én a Baldur's Gate-et és társait, és valahol itt gyökereznek a 2000 utáni Drakensang-játékok is.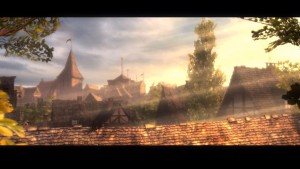 A Drakensang szerepjáték-alapja 1984-ben jelent meg Das Schwarze Auge (DSA) néven és afféle német válasz lehetett az amerikai D&D-re (akárcsak az angoloknál a Runequest). Ennek megfelelően a rendszere ijesztően bonyolult volt, ami nemhogy zavarta volna, de még vonzotta is az akkori német játékosokat. Egyébként joggal, hiszen az egyszerűsítés elveit félretéve a minél részletesebb szimulációra törekedett, és egész jól sikerült abszolválnia a feladatot.
Figyelembe véve a német mentalitást nem csoda, hogy a hiperbonyolult rendszeren alig vágtak a számítógépes változathoz. Még a legszimplább harcosnak is négyoldalas karakterlapja van (oké, az egyik a felszerelés oldala), egy mágiahasználónál ez már rögtön öt oldal lesz, illetve a krafthoz szükséges receptek szintén rádobnak egyet. Tegyük hozzá, hogy aloldalak is vannak, emiatt a legalapabb harcos esetében is minimum hat oldallal dolgozol, és a receptek részlege is három aloldalra oszlik.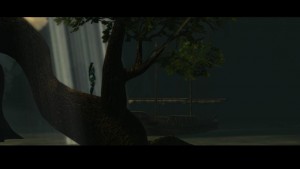 De nem kell megijedni; a fejlesztők tisztában voltak vele, hogy senki sem akar fél évet a rendszer betanulásával tölteni. A kurzorral bárhová mutatva eleve kisávoznak minden kapcsolódó cuccot az adott oldalon, emellett a jobb katt kihozza az adott főjellemző, jártasság, képesség vagy varázslat teljes leírását. Így viszonylag jól ki lehet számolgatni, hogy mit és hogyan fejlessz.
Márpedig kell számolgatni. Bár a tapasztalat a szintlépés mellett leosztható pontszámként is funkcionál, ez legfeljebb a harcosoknak elegendő a komolyabb fejlődéshez. A megoldás egyszerű, mint mindig; specializálódj! Az elf csajt (Fayris) képezd ki gyógyítónak és íjásznak, a törpét (Forgrimm) mindig vidd magaddal, a tolvaj (Cano) majd keresi/semlegesíti a csapdákat — erre Fayris is képes lenne, de ő inkább varázsolgasson és lövöldözzön, jó sok pontot eldobálhatsz erre a kettőre. Mivel a végén kötelező bevenni a csapatba a harcos nemest (Ardo), a fő sztori utolsó küldetéssorozata előtt győződj meg róla, hogy az ő fejlettsége és felszerelése is alkalmas a további kalandozásra. A háromféle kraftot pediglen javasolt elosztani a nem mágiatudó karakterek között; nekik biztosabban lesz elég pontjuk a fejlesztéshez.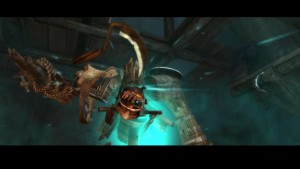 A játék története nem különösebben kiemelkedő. Bár sok ellenfélen kell átvágnod magad, mire kiderül, hogy ki és mire akarja használni azt az istenverte lopott koronát, végeredményben mégiscsak egy intrikus mese szövődik körülötted. Erre játszik rá az a mód is, ahogyan a játék eléd tárja az eseményeket, ugyanis a fejezetközi átvezető szövegek mindegyike Forgrimm szavait idézi, amint Cano és Mora (ő később jön képbe) lányának meséli a húsz évvel korábban történteket. Ezzel talán kicsit spoilereztem is, de aki játszott a The Dark Eye-jal, az már az első jelenetben borzongva ismeri fel ezeket a szereplőket.
Mindenesetre, karakterformálás terén a fejlesztők kitettek magukért. Emellett nem negatívum, legfeljebb semleges tény, hogy a játékmenet a már említett BG-s kalandozós-csapattaktikára épít, és a rendszert sem kellett megírni, "csak" leprogramozni — ellenben a környezet ismét a fejlesztőket dicséri.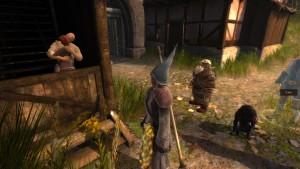 Nem, nem a grafikáról van szó, pedig az is szép. Inkább a világkép felépítettségét emelem ki, amelyben szintén fellelhető a németes precizitás. A természetben pillangók repülnek a rét felett, szarvasok ugranak el riadtan, ha megközelíted őket, és a romok között patkányok szaladnak be az apró résekbe. Nadoret városában egy feldühödött nő kergeti csalárd férjét az utcákon, gyerekek játszanak itt vagy ott, kiscicák bámulják a halakat a kikötő egyik mólójának végében. A számítógép előtt ülve hátranéztem, hogy mit akar az IRL macsekunk, minek nyávog már megint, és csak megkésve döbbentem rá, hogy a hang a fülhallgatóból jön. Még egy csókolózó párt is találtam egy féltetős kis fülkében az egyik fal mellett. Ennyire élő világképpel ritkán találkozhatunk számítógépes játékokban.
Sokat tűnődtem rajta, és végül arra jutottam, hogy szívesen megadom a kilencven százalékot. A küldetések ugyan monotonná válhatnak a sok harc miatt, emellett az utolsó csata kurvanehéz és repetitív, amit utálok, mert egy akármilyen nehéz bossfight csak akkor élvezetes, ha stílusos, és ez nem ilyen. A játékmenet ósdi, mondhatni divatjamúlt, de mivel jól működik, ez végeredményben majdnem mellékes. Ellenben az immersion (~elmélyedés; tehát amennyire a játék behúz a világába) szinte minden hibát feledtet; a világkép kidolgozottsága közelít a tökéletességhez; a mese pedig több szálon fut egyszerre — a cselekedeteiddel okozott változások újabb kalandokat eredményeznek a már bejárt területeken is.
Kötelező darab, ha kedveled azokat a CRPG-ket, amelyek jelentősebb agyi tevékenységet is kívánnak.
—Garcius—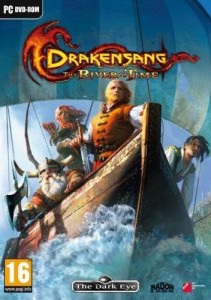 Cím: Drakensang: The River of Time
Kiadó: DTP Entertainment, THQ
Fejlesztő: Radon Labs
Honlap: az eredeti már megszűnt
Stílus: szerepjáték
Ami tetszett:
világkép kidolgozottsága
karakterek
történetmesélés
Ami nem:
a sok harctól helyenként monotonná válik