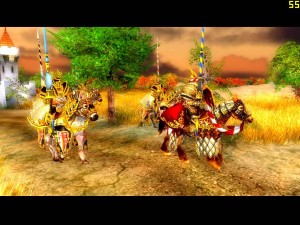 Talán az egyik legkellemesebb csalódás az 1C company által fejlesztett, 2007-ben megjelent Fantasy Wars körökre osztott stratégiai játék volt. A piacnak ezt a szegmensét szinte egyeduralkodóként bekebelező Heroes of Migh Magic sorozat mellett kevés más játék tud labdába rúgni. A korábbi nagy rivális Age of Wonders 2002-ben megállt, és a holland Triumph Studios nem folytatta a projektet, míg a dark fantasy környezetbe helyezett Disciples sorozat legújabb része még várat magára. Sok más, kevésbé ismert fejlesztőgárda "nevesincs" játékai próbáltak új vért pumpálni ebbe a műfajba több-kevesebb sikerrel, mígnem az 1C üdvöskéje egy teljesen más koncepcióval, egy igazi taktikai-stratégiai játékkal rukkolt elő szép csendben. A Fantasy Wars fantáziátlan nevet viselő és unalmas fantasy kliséket felsorakoztató játék sok stratégát jó időre képes a monitor elé szegezni, hiszen az elkoptatott fantasy környezetet bőven ellensúlyozza maga játékmenet.
A Fantasy Wars szakított a körökre osztott fantasy stratégiák megszokott játékmenetével, és az egész játékmenet a tiszta csatákra van kiélezve. A Heroes és hozzá hasonló sorozatokban, vagy olyan riválisok esetében mint a Disciples és az Age of Wonders, két külön térképen futott a játék; hősünkkel a birodalom térképén haladva foglalhattunk el a kastélyokat, várakat, nyersanyaglelőhelyeket, stb., majd a csatákat a térkép egy felnagyított szeletén játszhattuk le, ahol egységeinket többnyire egy alak jelezte. A külön városmenedzsment képernyőn pedig intézhettük ügyes-bajos dolgainkat, mint a katonák felfogadása vagy épp az épületek felhúzása és a kereskedés.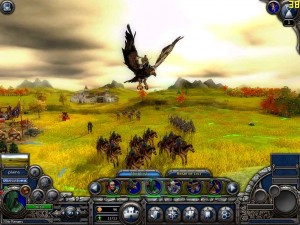 Ezzel szemben az 1C játékában egy adott térképen játszhatunk, és ezen a térképen vívhatjuk meg a csatáinkat is. Ez a játékmenet leginkább az ingyenesen letölthető GNU/GPL licenc alatt futó, Linuxon slágerjátéknak számító Battle for Wesnothra emlékeztet. A játéktér hatszög alakú cellákra van felosztva, és az egységeink ezeken a "hexákon" haladhatnak, ezekben tartózkodhatnak, és ezekről indíthatnak támadást a szomszédos cellákban elhelyezkedő ellenségek ellen. Természetesen minden cella önálló tulajdonságokkal rendelkezik, így indíthatunk támadást erdőből, várfal mögül vagy éppen szántóföldről is. Maximálisan ki kell használnunk a terep adta lehetőségeket, hiszen katonáinknak sem mindegy, honnan indíthatnak offenzívát. Hogy néhány példát említsek, felderítőink előszeretettel támadnak az erdő fái közül, ezzel bónusz sebzést okozva, vagy íjászaink távolabbra képesek lőni egy hegytetőről, mint egy szalmakazal mögül. Mindez megadja a játékmenet alapjait, a taktikázás lehetőségeit, ám ezt megkoronázza az okos egységfejlesztés, amelynek során tetszés szerint specializálhatjuk minden egyes egységünket.
A játékvezérlő panel tájékoztat minden fontos információról, csak egy hibája van; a minitérképet lefelejtették róla. Így helyette kénytelenek leszünk a billentyűvel előhívható nagy térképet használni, ami viszont nem helyezhető el a játékképernyőn. A panelen láthatjuk a kijelölt egységünk jellemzőit és állapotát, s innen érhetjük el a hadsereg fejlesztési képernyőjét is.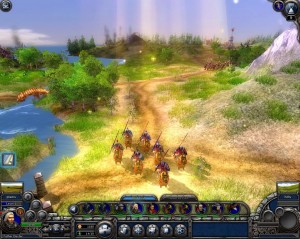 A terepasztalon elfoglalt falvakból és városokból lesz aranyunk, amelyet teljességgel haderőnk fejlesztésére költhetünk, ugyanis nincs más kiadásunk. A hadsereget két részre osztja a játék, vannak az aktív harcosok, akikkel a csatát vívjuk, és vannak a tartalékosok, akiket a harcban elpusztult csapatok helyére küldhetünk be. Íjász, könnyű lovasság, nehéz lovasság, könnyű gyalogság, nehéz gyalogság, varázsló hősök, harcos hősök, felderítők, légi vadászok, légi bombázók és ostromgépek alkotják seregünket. Minden egységünk öt szintet léphet, és minden szintlépéskor választhatunk a felajánlott speciális képességek közül. Miután az adott egység elérte az ötödik szintet, bizonyos pénzösszegért felfejleszthetjük egy erősebb egységgé. Így lehet lándzsásainkból birodalmi alabárdos, vagy sasmadarainkból bombát dobáló saslovag, stb. A választható képességek pedig nagyban befolyásolják egységeink csatában nyújtott eredményét.
Seregünk bizonyos részei kiválóan összedolgozhatnak egy-egy ütközetben. Repülő egységeink remek támogató és fedező erőként használhatóak a talpasaink védelmére. Ez a fajta stratégiai és taktikai kidolgozottság volt a játéknak az a szelete, amely még engem is a képernyő elé tudott szegezni. Hadseregünkben természetesen a hősök is megtalálhatóak. Ők lényegesen nagyobbat tudnak sebezni, mint egy átlagos katona, és többféleképpen fejlődhetnek. Mindemellett tárgyak és ereklyék használatára is képesek, ezáltal növelik a csapatmorált és más meghatározó harci elemeket.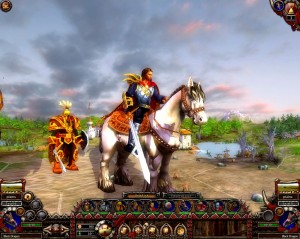 A program negatívuma lehet a bugyuta történet? Szerintem nem. Ma már annyi sablonos fantasy játék jelenik meg, hogy igazán megbocsátható az 1C-nek, hogy nem ölt bele annyit a sztori kidolgozásába, mint sok más fejlesztőcég. Nem bonyolított semmit, nem tett szamurájokat és római gladiátorokat a világba, hanem hű maradt a klasszikus fantasy műfajhoz törpékkel, orkokkal, elfekkel és emberekkel. A történetet a játék motorjával, és egyéb, a hősök közti párbeszédekkel ismerhetjük meg. Hadjáratok közül pedig egyaránt választhatjuk az orkokét és az emberekét, míg az elfekkel csak e két küldetéssorozat kijátszása után próbálkozhatunk. Sztori tekintetében a Fantasy Wars nem akart újítani, megváltani a PC-s fantasy világokat, de egy elfogadható, korrekt, a szélsőségeket nélkülöző világgal és történettel állt elő.
A grafikát sok nemzetközi és hazai játékportálon leszólták, miszerint elavult, szálkás, csúnyácska. Lehet, hogy nem felel meg a 2007-2008-as újításoknak, de a maga kategóriájában mindenképp megállja a helyét. Ami pedig kifejezetten tetszett, az a játék színvilága. Az orosz fejlesztők teljesen meseszerűre keverték a színeket, ennek köszönhetően egyedi hangulatot varázsoltak a Fantasy Warsnak. A világoskék-arany lovagok, a díszes varázslóköpenyek színkavalkádja még inkább terepasztali hangulatot kelt. Külön öröm lett volna, ha a játékhoz egy seregfestő alkalmazást is mellékelnek a fejlesztők, és így az interneten mindenki a maga kis festett seregével állhatna ki a többiek ellen.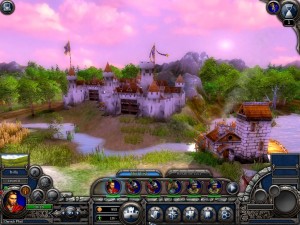 A játék zene tekintetében sem kiemelkedő. Szól, aminek szólnia kell. Csatadobok, fanfárok, és olykor kellemes, reneszánsz háttérmuzsika. Semmi kiemelkedő, de a célnak megfelel. Ugyanez mondható el a hangeffektekről is.
Most veszem csak észre, hogy negatívumokról szinte nem is írtam cikkemben. Nos igen, nem nagyon lehet. Talán, a néha becsúszó irritáló küldetések során verhetjük fejünket a falba. Ugyanis a küldetések teljesítését körökhöz köti a Fantasy Wars, így egy adott küldetést befejezhetünk arany, ezüst és bronz helyen is. Zavaró, amikor épphogy lecsúszunk a dobogóról, és kezdhetjük elölről a küldetést, agyalhatunk rajta újra, hogy hogyan is kéne pakolni csapatainkat. Ám nem kell megijedni, könnyű fokozaton végigjátszható a játék nagyobb @%*! felkiáltások nélkül, és még így is élvezhető marad a játékmenet, tartogathat meglepetéseket.
—Somesz—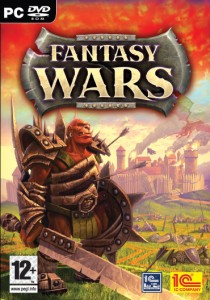 Cím: Fantasy Wars
Fejlesztő: Ino-Co
Kiadó: 1C
Honlap: http://fantasywars.1cpublishing.eu/
Stílus: körökre osztott stratégia
Ami tetszett:
grafika
kezelhetőség
játékszabály
Ami nem tetszett:
unalmas zenék