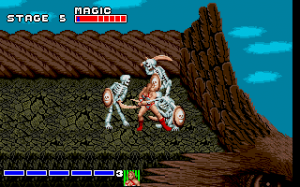 Lassan húsz éve, hogy gyermekkorom meghatározó játéka meglátta a napvilágot. 1989–ben először SEGA játékkonzolokra jelent meg a ma már igazi legendává érett Golden Axe hack'n'slash akciójáték, majd egy évvel később elkészült a PC átirat is, amely hazánkban persze jóval később jelent meg. Érdekes, de ez volt az egyetlen olyan játék, amelyet előbb játéktermi gépként ismerhettem meg. Balatoni családi nyaralás, vagy épp tokaji fürdőzés? Ebbe a játékgépbe mindenhol belebotlottunk szüleim "örömére", és jöhetett a kuncsorgás a zsetonért. Persze, nem állt távol az akkori gyerekektől a Golden Axe világa, hiszen a Conan, a Barbár de még inkább a Kockásból ismert Rahan történetek is hasonló háttérrel és világképpel rendelkeztek. Így nem meglepő, hogy a Golden Axe hatalmas népszerűségnek örvendett a rendszerváltás után, s ugyan ki ne szeretett volna belebújni a kigyúrt barbárok bőrébe, hogy hatalmas fejszével vagy karddal apríthassa az ellenséget?!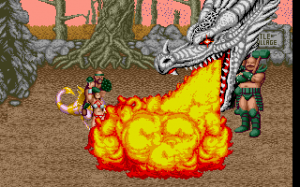 A játék egy tipikus sidescroller akciójáték volt, amely teljes egészében nélkülözte a korszakra oly jellemző platform-elemeket, és kizárólag a látványos akcióra fókuszált. A történet egy tipikus középkori és Conan-védjegyeket felelevenítő fantasy világban játszódott, melyben szokás szerint egy főgonoszt kellett leküzdenünk, nevezetesen Death Addert. Ez a név szinte beleivódott elmémbe, annyiszor hallottam és ejtettem ki magam is. E nélkül a gonosz halállovag nélkül szinte már el sem tudnám képzelni a kilencvenes évek elejét.
A Golden Axe három játszható karaktert ajánlott fel, mindhárom más-más jellegzetességgel rendelkezett. Volt a törpe gyenge varázslatokkal, de iszonyatosan erős fizikai sebzéssel, és konkrétan bárkit miszlikbe aprított a kétkezes csatabárdjával. Volt a barbár, aki az arany középutat képviselte, ugyanis átlagos varázserővel és átlagos sebzésű karddal rendelkezett. Sokak kedvence volt a piros bikinibe öltöztetett amazon, aki piszok erős varázslatokat dobált, viszont gyenge fegyverrel harcolt. A három választható karakter valahogy egyértelműsítette, hogy testvéreim, bátyám és nővérem közül ki melyiket választja magának. Igen, nekem maradt a törpe!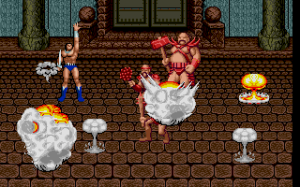 Death Adder legyőzéséhez természetesen előbb a szolgáit kellett móresre tanítani. Több helyszín várt a hősökre, és minden pálya végén volt valami főellenség vagy nagyobb csata. A játék fantasztikus harcrendszerrel büszkélkedhetett. A rendszer azért erős túlzás, maradjunk annyiban, hogy nagyon jó kis kombók álltak a hősök rendelkezésére, és idővel profi szinten lehetett űzni a Golden Axe harcművészetét. Volt az alapütés, felugrás+ütés, kardpörgetés, amely a törpe esetében bukfenc volt, futás+ütés, amellyel pedig lefejelhettük az ellenséget. E kombinációk megfelelő együttes alkalmazásával válhattunk a Golden Axe mesterévé. Minden tudományunkra és nem utolsó sorban jó reflexekre is szükségünk volt ahhoz, hogy túléljük a Death Adder elleni harcot. Ugyanígy ismernünk kellett az összes ellenség gyengéjét és küzdőstílusát, hiszen mindegyik ellenség más – más módon támadt ránk. Voltak a szabvány katonák, buzogányos katonák, fejszés amazonok, óriások, csontvázak és nagyra nőtt halállovagok. Mindegyik ellen megvolt a jó taktika, az amazonokat nem volt szerencsés közel engedni magunkhoz, inkább futásból lefejeltük őket. Az óriásokat ugrásból fejbe vertük, ezzel mindig a padlóra küldve őket. Minden ellenség ellen megvolt a recept, ha pedig nagyon megszorongattak minket, akkor mentőövnek ott volt a varázslás, melynek hatására minden, a képernyőn szereplő gonosz karakter elterült, s ezzel mi időt nyerhettünk.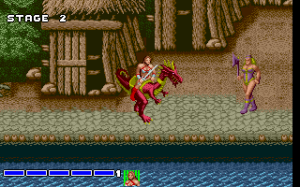 A harcot tovább színesítette a hátas sárkányok megjelenése, melyek nyergéből kiütve az ellenséget mi is megülhettük őket. Volt a kicsi csőrös sárkány, amely a farkával tudta elgáncsolni a ránk támadókat, majd voltak az erősebb, már inkább sárkánygyíkra hasonlító hátasok, amelyek tűzlabdát vagy tűzcsóvát tudtak fújni. Egy-egy pálya után tábort ütöttünk, majd éjszaka jöttek a jótékony manók, akikből ki kellett rugdosni az varázsitalokat és az életerő növelő kajákat. Már ez is mutatja, hogy mennyire hangulatos alkotás volt a Golden Axe. A hangulatot tovább erősítette a zene és az effektek. Bár akkoriban valós hangzást nem lehetett produkálni, mégis máig a fülemben vannak a játék meghatározó dallamai, és ma is el tudnám dúdolni a főcímzenét, az első fokozat jellegzetes zenéjét és a manók érkezését jelző mókás muzsikát is. Mindehhez társultak a vérfagyasztó sikolyok, ordítások és kardcsapások.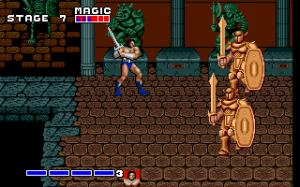 A Golden Axe két játékmódot kínált; az Arcade és a The Duel módokat. Az előbbi volt a történetmód, mikor a kampányt játszhattuk végig egészen Death Adder legyilkolásáig, a The Duel pedig amolyan aréna volt, amelyben különféle ellenfelek ellen kellett egyedül helytállnunk. Vicces, de a főtörténet kijátszása maximum 20 percet vehetett igénybe, mégis napokig, hetekig, hónapokig le tudta kötni az embert ez a játék. Igazából a Golden Axe egy korszak volt. Ennek oka pedig a kooperatív játékmód, mikor maximum ketten egy klaviatúra mögé kuporodva végigjátszhattuk a Golden Axe Arcade módozatát. Külön élmény volt mindig más-más társakat kifogni magunk mellé, így idővel szinte a teljes rokonság és baráti kör kijátszotta a játékot. Mikor már nagyon benne voltunk, akkor kérdés nélkül segítettük egymást, megvoltak a csapattaktikáink, olykor hangosan kiabáltunk is egymásnak. Ezt az érzést ma már szinte egy játék sem tudja visszaadni, hiszen össze se lehet hasonlítani a hálózati és internetes játékok nyújtotta élményt, az egy monitor előtt összeverődött baráti társaság adta örömökkel.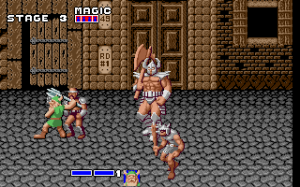 A Golden Axe bizony nagybetűs klasszikus. A maga húsz évével pedig élő legenda, hiszen ma is rengetegen játsszák, hála a DosBox – nak, s bizony konzolokon még ma is él ez a brand. Sajnálkozzunk, hogy PC-re nincs újabb Golden Axe? Szerintem ne, hiszen az a játékmenet, ami 1989-ben és a kilencvenes évek elején buli volt, nem hinném, hogy ma már megállná a helyét, s lássuk be, a konzolra fejlesztők még ma sem léptek túl ezen a játékstíluson. (pl. a Capcom) Úgyhogy inkább örüljünk annak, hogy 20 évvel ezelőtt egy ilyen nagyszerű játékkal lepett meg minket a SEGA. DosBox-ra fel és szóljatok a haveroknak, én leszek a törpével!
Update: A Golden Axe és a második része újrakiadásra került számos másik SEGA klasszikus kíséretében. Webshopokban és Steamen keresztül egyformán megvásárolhatóak.
—Somesz—