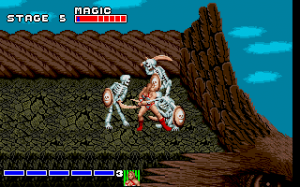 Around twenty years ago the determining game of my childhood was born. In 1989 it was released for SEGA consoles at first, and by today it became a real legend. After just one year the hack'n'slash action game, Golden Axe was ported to PC (of course, it was available in Hungary much later). A tiny comment: It was the only game I got to know first in the form of a gaming-room machine. The family was on holidays at Lake Balaton… or in Tokaj? It doesn't matter: the machine was there everywhere for not the delight of my parents, because I always asked for coins. In that time Golden Axe wasn't far from the imagination of children, because the barbarian king, Conan, and the Rahan comics were in fashion and have similar setting. The game's popularity was not surprising, because who didn't want to be big and strong like a barbarian who hacks the enemy with a huge hatchet or sword?!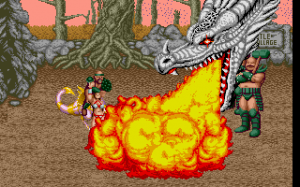 It was a typical side-scroller action flick and completely lacked of the standard platform elements of that time. It was focused only on the spectacular action. The story was set in a world with common middle-age and Conan trademarks, and you had to kill the main boss of the villains, namely Death Adder. I heard and said the name so many times that it was almost burnt into my mind. I can't even imagine the beginning of the nineties without this evil death knight.
Golden Axe offered three playable characters with different abilities. The dwarf had weak spells but extraordinary damage dealing ability, mincing everyone with his double edged hatchet. The barbarian represented the golden mean with his average spells and sword. The red clothed amazon got numerous fans by her very strong spells and weak weapon. I don't have to mention what character was chosen by my elder sister and brother – yes, only the dwarf remained for me.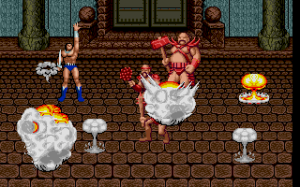 Of course, to reach Death Adder you had to decimate his servants first. Several locations waited for the heroes, and every level ended in an epic fight against some boss or a mass of enemies. The game had fantastic combat system – after all, calling it "system" sounds like an strong exaggeration, so let's just say there were good little combat move combination for every hero, and after a time you could master the martial art of Golden Axe. Besides basic attack there was jump+hit, sword spinning – in the case of the dwarf it was tumble and hit –, and run+hit which was a headbutt in real. By using these combinations after each other you could get expertise, but besides practice surviving Death Adder needed good reflexes too. And you must have known all the weaknesses and fighting styles of your opponents, because they are attacked the heroes by various ways. There were standard foot soldiers, mace wielding soldiers, amazons with hatchets, giants, skeletons and too big death knights. You had to find out the right tactics against each one of them: For example, it wasn't recommend to let the amazons close, but you could have good results by running and headbutting them. Giants could be knocked down by a jump+hit move which hit on their head. So there was a receipt against each opponent, and if they pumped you, your spells could change the flow of the battle by affecting on every villains onscreen.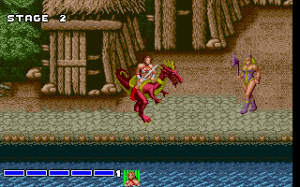 Dragon mounts were coloring combat further, because you could knock the rider out of the saddle and ride the mounts yourself. The little dragon with beak could sweep with its tail to trip the opponents, and there were stronger, bigger dragons spitting fireballs or breathing fire. After a level the team pitched a camp, and at night some benevolent gnomes came and you could kick some potions and meals out of them. Imaging all of these you can get a picture about the atmodphere of Golden Axe, which was further improved by the music and sound effects. Although in that time the real music in games was a dream, but its main tunes are still in my ears, and even today I can hum the title song, the characteristic music of the first level, and the music under the arriving of the gnomes on nights. Scary screams, shouts and the clings of weapons were accompanying the music.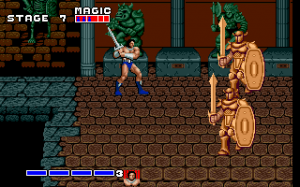 Golden Axe offered two game modes: Arcade and The Duel. The former was the story play in which you could bash through the campaign till the end of meeting Death Adder. The Duel mode was something like a pit fight where you should hold on against various opponents. It sounds like a joke, but the main story took approximately 20 minutes to walk through, but it could have a grip on you for days or weeks, even for months, because "Golden Axe" was rather an era than just a game. And the cause of this was the cooperative game mode, in which you could play through the Arcade with a friend. The real fan was in playing with another partner as many times as you could, so after some time almost all the friends and family members walked through the game. Immersion meant helping to each other without any word, or sometimes continuously changing the team tactics by shouting to each other, excited beyond measure. Today there are not many games giving this experience, because sitting with friends before the same screen is not comparable with playing through LAN or the internet.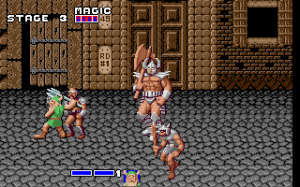 So Golden Axe is a Classic with capital C, and its age of 20 years made it a legend, because a lot of gamers play it even today, thanks to DosBox – and the brand is still living on consoles. Should we worry about not having it on PC? I think we shouldn't, because the gameplay which was fun in 1989, is old and archaic today, and let's admit it: Console developers (i.e.: Capcom) weren't able to step over this ancient style. So we should be glad about having such a great game from SEGA in the past, and if you want to take a look at the old times again, get DosBox and call some friends. I'll be with the dwarf!
Update: Golden Axe and Golden Axe II were re-released in 2010 among several SEGA classics. They can be bought in webshops and through Steam.
—Somesz—