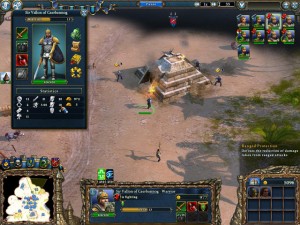 Először is kezdjük az elején, avagy hogy miért nem játszok valós idejű stratégiákkal. A Total Annihilation valaha nagy kedvenc volt, de ma már valahogy egyáltalán nem szórakoztat az a játékmenet, amikor minden pálya elején felépítjük ugyanazt a bázist, kifejlesszük ugyanazokat a technológiákat, majd lerohanjuk ugyanazokat az ellenfeleket, és a következő pályán pedig megint kezdhetjük elölről, megismételve ezeket az állomásokat. Miután az RTS játékok 90%-a az 1992–ben megjelent Dune 2 óta erről szól, nem csoda, hogy meguntam ezt a műfajt. Most mégis rászántam magam egy távolról elképesztően közhelyes játék tesztelésére, amely a közelebbi ismerkedés során ugyan kitárulkozott annyira, hogy értékelni tudjam az RTS szabványoktól való elrugaszkodását, ám hosszú távon sajnos ez a játék sem mutatott többet a többi tucatstratégiánál.
A Fantasy Wars és az Elven Legacy után vált egyre szimpatikusabbá az orosz 1C többnyire fiatalokból verbuválódott különálló fejlesztőgárdája, az Ino-Co, hiszen ez a két körökre osztott stratégia rendkívül élvezetes játékmenettel, kidolgozott szabályrendszerrel és szép grafikával büszkélkedett. Az Ino-Co, a kétségkívül erős debütálás után, mikor már úgy érezték, hogy van elég tapasztalatuk a fantasy stratégiák világában, nekiláttak egy régi klasszikus, a 2000-ben debütált Majesty – The Fantasy Kingdom Sim feltámasztásának.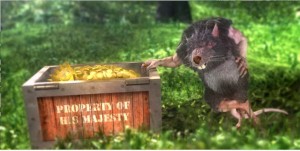 Ahogy a bevezetőben utaltam rá, nem egy szokványos RTS-ről van szó. Egy egészen bájos, és mókás intro után szembesülünk vele, hogy bizony itt nem kell véresen komoly fantasy világra számítanunk, sőt, már-már paródiának is beillik a Majesty 2: The Fantasy Kingdom Sim alaptörténete. Az Ardania névre keresztelt világban ugyanis minden király hősként halt meg, minden király legyőzött valami gonoszt, amivel kiérdemelhette a nép csodálatát. Mivel nagyon sok királya volt már a birodalomnak, így gonosz sem maradt a föld színén. Itt a bökkenő, ugyanis az éppen uralkodó Leonard királynak már nem maradt ellenfél, így attól rettegett, hogy belőle nem lehet hős. Ezért összehívta a palota varázslóit, és megidéztetett velük egy borzalmas, pokoli démont, hogy azt legyőzhesse. Sajnos a démon túl erősnek bizonyult, így trónfosztotta Leonard királyt, Ardania pedig káoszba borult. Szerencsére bennünk, játékosokban folyik a királyi vér, és utolsó reménysugárként egyedül nekünk van lehetőségünk szembeszállni a démonnal, és visszaszerezni Ardania trónját. Az előtörténet adott, a közel 20 küldetés is hasonlóan mókás és parodisztikus jelleggel bír, amelyet nagyban alátámaszt udvari tanácsnokunk szövegelése és útbaigazítása is.
A Majesty 2-ben ugyan ugyanúgy kell építkeznünk, mint minden más stratégiában, de szerencsére nincsenek konkrét, megfogható egységeink, akiket gyártani kéne majd idővel ide-oda taszigálunk a térképen. Nem, itt hősök vannak, akik tőlünk függetlenül kószálnak a térképen, gyilkolják a szörnyeket, költekeznek a piacon, és idővel szintet lépnek. Itt felmerülhet a kérdés a kedves olvasóban, hogy ha ezek a hősök ilyen "önfejűek", akkor hogyan kivételezhető egy-egy küldetés. Nos, nem egyszerű ezeknek az öntelt kalandoroknak a kedvében járni.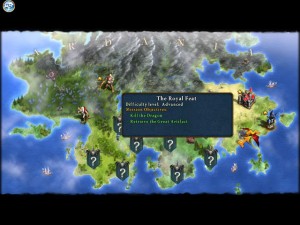 Alapvetően öt különféle hős bérelhető fel, közelharcosok, íjászok, papnők, tolvajok és varázslók. Mindegyik hős más – más tulajdonságokkal és képességekkel rendelkezik. A hősöknek küldetéseket adhatunk, természetesen mi szabjuk meg a küldetés teljesítéséért járó jutalmat, a hősök pedig döntenek, hogy megéri e nekik vásárra vinni a bőrüket. Így nem árt, ha mindig van némi arany a kasszában, hiszen nem biztos, hogy 100 aranyért átballagnak a térkép túloldalára szétverni egy farkasfalkát.
A hősök irányítását egyszerűen oldották meg a fejlesztők. Négy zászló áll rendelkezésünkre, amely négy küldetésfajtát jelöl. Ezeket a zászlókat helyezhetjük a térkép bármely pontjára, jutalmat rendelhetünk hozzájuk, majd türelmesen kivárjuk, míg a városunkban állomásozó hősök közül valamelyik ráveti magát. Van védelmi zászlónk, támadást jelölő zászlónk, felderítő küldetést jelölő zászlónk és félelemkeltő zászlónk is, melyet olyan helyre szúrhatunk le, amit szeretnénk, ha elkerülnének a kalandorok. A hősök, hivatásuktól függően más-más zászlóra kapják fel a fejüket. Az íjászok előszeretettel vesznek részt felderítő küldetésekben, a talpasok inkább védekezésben jók, a törpe harcosok épületek ellen hatásosak, stb. Érdemes figyelnünk a hősök toborzására, amely hasonlóan működik, mint a megszokott RTS játékokban, ergo minden típusnak saját épülete van.
Az ütőképes gárda ellátásához azonban erős gazdaságra van szükség. Szerencsére nem kell parasztokkal, favágással, bányászattal meg egyéb a Warcraft és Dune nyomdokain haladó játékokban megszokott, monomániás marhaságokkal foglalkoznunk, elég csupán, ha kereskedelmi központokat építünk a térkép erre fenntartott területein. Minél több van, annál szebb bevételre tehetünk szert. Persze a legtöbb ilyen szamárból és csomagokból álló kereskedelmi posztot szörnyek fenyegetik, így először mindig érdemes kipucolni a környéket, s felszámolni a központhoz közel elhelyezkedő medvebarlangokat, megszentségtelenített temetőket és egyéb ellenséges bázisokat. Ha már elég pénz összejött, akkor fejleszthetjük a hőseinket amolyan igazi szabvány RTS módon, azt leszámítva, hogy tárgyakkal magukat látják el a városi piacon vagy a kovácsnál, így nekünk csak az adott épületet kell fejlesztenünk.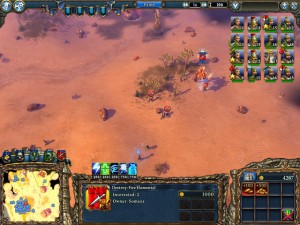 A harcba szinte semmi beleszólásunk sincs. Mint "őfelsége", képesek vagyunk ugyan varázsolni, de a hősök maguk harcolnak, minden taktikáról ők döntenek. Hogy éppen mivel van elfoglalva egy-egy hős, azt a feje felett megjelenő emotikon jelzi. A taktikába annyiban nyúlhatunk bele, hogy a városi tavernában négyfős csapatokat verbuválhatunk a betért kalandorok közül. Ha a csapat főnöke elfogad egy küldetést, akkor automatikusan követi a többi hős is. Így érdemes vegyes csapatokat összeállítanunk gyógyítóval és harcossal. A missziók végén általában 10-15 szintet lépnek a kalandorok, és egynek adományozhatunk lovagi címet, akit később a Hősök Csarnokából idézhetünk meg.
Ez az érdekes játékmenet volt az, amely rávett arra, hogy kipróbáljam a Majesty 2-t. Ebben a tekintetben kétségkívül letért a szokványos RTS játékok útjáról, és azt kell mondjam, pozitív irányba. Legalábbis nekem tetszett ez a fajta egységtoborzás és irányítás. Mindehhez társult a küldetések ötletessége, jópofasága és a meseszerű világkép. Elég csak néhány példát felemlegetni, és máris szembetűnő, hogy mennyire mesés Ardania birodalma. Félelf nagynénénk meginvitál délutáni teára, de ha már arra járunk, esetleg legyőzhetnénk a falvakat terrorizáló ogrét is. A patkánykirály sajtkövetelésekkel áll elő, de persze egy trónörökös nem tűrheti, hogy egy patkány sajttal terrorizálja. A közismert őrült mágus tornyot épít. A mágus, aki előszeretettel ötvözi a technológiát a mágiával, így tornya a tokaji rádiótorony és Szarumán tornyának bizarr egyvelegét alkotja, és maga is elég bizarr teremtés, így nem árt megfékeznünk. A kereskedők nem érkeznek meg városunkba, így maguk helyett pár szamarat küldenek, ám ezek értékes szamarak, meg kell őket védeni az útonállóktól. Még sokáig sorolhatnám ezeket a mesés küldetéseket, ha nem jött volna elő 5-6 óra játék után az RTS-undorom.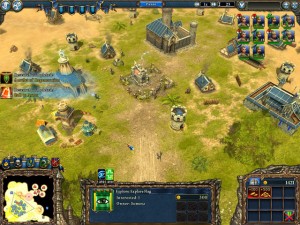 Mert sajnos hiába minden egyediség, jópofa világkép, egyedülálló egységtoborzás és irányítás, egyszerű városmenedzsment és jól működő rendszer, sajnos három-négy küldetés után a Majesty 2 sem tud újat felmutatni. Idővel azon vesszük észre magunkat, hogy itt sem teszünk mást, mint minden pálya elején felhúzzuk a már előzőleg ötezerszer felépített épületünket, toborzunk hősöket, akiket azelőtt már szintén ötezerszer toboroztunk, elvégezzük a szokásos fejlesztéseket, melyeket korábban már szintén ötezerszer kikutattunk és így tovább. A bájos környezet és igényes körítés ellenére sajnos a Majesty 2 sem tudott kilépni az RTS-unalomból. Ez nem jelenti azt, hogy más ne élvezné akár 20 órán keresztül is, sőt, nem túlzok, ha azt mondom, hogy az RTS játékok közül bizony egy élvezhető, jópofa, egyedi dolgot kaptunk az Ino-Co-tól. A magam részéről viszont maradok a körökre osztott stratégiáknál és az olyan hibrideknél, mint a Total War és a Mark of Chaos széria. Az Ino – Co-nak pedig kijár egy újabb piros pont, de ezúttal csak a korrekt iparosmunkáért.
—Somesz—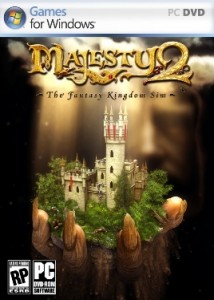 Cím: Majesty 2: The Fantasy Kingdom Sim
Fejlesztő: Ino-Co
Kiadó: Paradox Interactive
Honlap: http://www.majesty2.com/
Stílus: RTS
Ami tetszett:
humoros, meseszerű világ és küldetések
a hősök toborzása és "irányítása"
szép zenék
Ami nem tetszett:
4-5 pálya után már csak ismétel