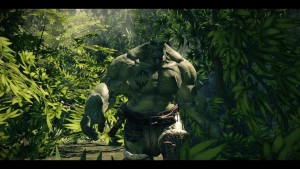 Alapvetően minden téren kedvelem a crossovereket, mert ha az alkotók jól kombinálnak, akkor a különféle műfaji elemek ötvözetéből valami nagyon jót lehet kihozni akkor is, ha mélyre ásva nem találunk olyan nagyon új vagy különösebben egyedi tartalmat. A Blood Bowl újrafeldolgozása óta a francia Cyanide neve egyébként is egyre inkább a minőségi szórakozás egyik szinonimája, de az Of Orcs and Men finoman hangolt crossoverével a cég végképp felírta magát a figyelendők listájára.
Már a cím is felkeltette a figyelmet, hiszen az Steinbeck Egerek és emberek (Of Mice and Men) című könyvére hajaz, és a hasonlóság itt nem áll meg. Megkapjuk az alacsony, fürge és a lomha óriás karaktereket, a kötet tartalmi leírásának egyik mondata pedig egyetlen szó kivételével tökéletesen illik erre a játékra: "Barátságuk ritka kincs az őket körülvevő sivár, brutális világban, amely könyörtelenül megsemmisülésre ítél mindent, ami…" Az eredeti mondat végén az "emberi" szó szerepel, azonban itt muszáj átírni: "…ami ork."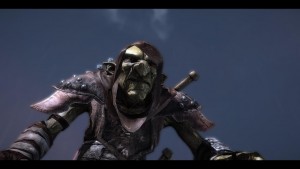 Már annak idején a trailerek megfogtak a sztorival: az emberek totális háborút indítottak a zöldbőrűek ellen, és az orkok egy részét kiirtották, más részüket rabszolgaságba vetették. Épp csak azzal nem számoltak, hogy a kívülről vad, barbár és szervezetlen hordáknak látszó faj valójában nagyon is fejlett kultúrával rendelkezik, ezen belül többnyire erő-alapú, de azért mégiscsak jól körvonalazott hatalmi struktúrába szerveződnek és bizony még elit osztaguk is van.
Az elit osztag neve Véres Agyar (Bloodjaw), szimbóluma a jobb mellkason látható tetoválás, és persze a főszereplő, Arkail is tagja ennek a csoportnak. Ráadásul megkapja meglehetősen orkosan összefoglalható feladatát: juss át a falon, kerítsd elő és öld meg a császárt! Tényleg ennyi utasítást kapsz a játék elején, bár ezt teljesíteni jóval nehezebb, mint amilyennek látszik.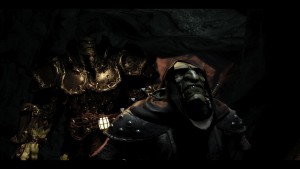 Első és legfontosabb mozzanat, hogy a városfalon való átjutáshoz felbérelnek számodra egy vezetőt, aki nem más, mint a valaha látott egyetlen gondolkodásra és beszédre képes goblin, Styx. Nem mellékesen ő a sztori narrátora, és a káromkodás sem áll messze tőle. Íme, megvan a páratlan páros, akiknek az egyetlen közös tulajdonsága az, hogy zöld a bőrük.
A különbségek felsorolása hatalmas listát tenne ki, ezért a lényegre szorítkozom. Először is, Arkail egy "anger management" problémával küzdő harcos, azaz mondjuk ki; egy őrjöngő vadállat, aki időnként annyira bepipul, hogy mindent lecsap, ami mozog. Styxet is. A lopakodás meg kifejezetten távol áll tőle, alapjáraton is döngő léptekkel rohan az ellenfelek felé. Vele szemben a goblin egy orvgyilkos, aki szerint ha valakit el tudsz intézni egy jól irányzott torokmetszéssel hátulról, akkor miért kockáztatnád a bőröd nyílt harcban?
Másodlagos, de igen fontos különbség a kulturális ellentét. Bár mindketten zöldbőrűek, a vad és kábé kutyaként kezelt goblinokhoz képest az orkok az evolúciós létra egy magasabb fokán állnak. Emiatt Arkail eleve lenézi Styxet, arról nem is szólva, hogy ork berzerkerünk számára a tisztelet és a becsület alapvető tulajdonságok a világban való eligazodáshoz, míg társa mindezt a munkáért beígért pénzérmék számától teszi függővé.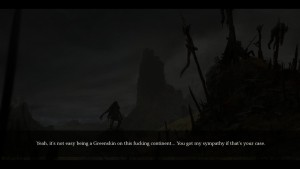 Lehetne még részletezni, de tényleg annyival összefoglalható a két karakter, hogy totálisan ellentétesek, semmi közös nincs bennük, legyen szó akár a kulturális hátterükről, akár a foglalkozásukról, akár a harci képességeikről és tudásukról, akár a jellemükről.
Mindez megfontolt tervezés és gondos programozói-művészeti munka eredménye, de ami igazán zseniális és ami nélkül csak egy következetlen vacakot kaptunk volna, az a taktikai harc. A taktika ott kezdődik, hogy egy adott területen mennyi ellenfelet tudsz elintézni a lopakodó Styx halálos kis tőrpengéivel, mielőtt elkezdődik a durvább csetepaté?
Éspediglen ott folytatódik, hogy a két totálisan eltérő karakteredet hogyan használod a változatos összetételű és számú ellenfél-csoportokkal szemben. Össze kell dolgozniuk, mert ha nem teszik, akár egy csapat kutyamód csaholó és majomszerűen ugráló goblin is széttépi őket. Ha összefognak, akkor viszont a legkeményebb berserker-orkok és inkvizítorok sem állhatnak meg előttük — külön-külön vagy akár együtt.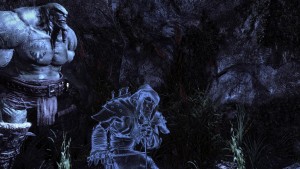 Folyamatosan figyelned kell a csatateret és társadat, nincs helye önzésnek. Ha jön az ellen, akkor Arkail és Styx egyazon harci gépezet két külön karjává válik, és amíg az egyik kéz lecsap, addig a másik gyengíti az ellenfelet. Egyes helyzetek ténylegesen feladják a leckét, ahogyan a karakterfejlesztés is, aminél még a magasabb szinteken is elgondolkodtam, hogy mi a fenére tegyem a kapott egy tulajdonságpontot és egy jártasságpontot? A használt fegyver és vértezet kérdése ugyanígy elgondolkodtat, és a feleletválasztós beszélgetések is az RPG-fílinget erősítik.
Ha eddig nem derült volna ki, összefoglalom: ez olyan egy crossover játék, amelyben megtalálhatod a CRPG-k, a dungeon crawling (labirintusos) játékok, a kalandjátékok és a kiscsapatos taktikai játékok legjobb elemeit. Remek ötvözet készült a Cyanide műhelyében. Számomra első látásra szerelem volt, és a végigjátszás után is ez maradt a véleményem.
—Garcius—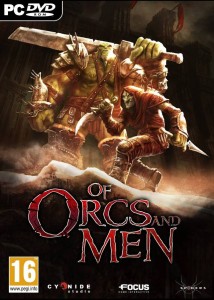 Cím: Of Orcs and Men
Kiadó: Focus Home Interactive
Fejlesztők: Cyanide, Spiders
Honlap: http://www.oforcsandmen.com/index.php
Stílus: dungeon crawling, RPG, kaland, taktikai
Ami tetszett:
ork kultúra
karakterek
taktikai harc
RPG elemek
Ami nem:
nincs ilyen