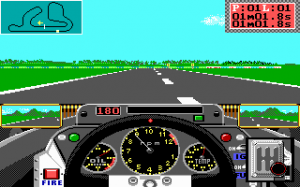 Ugyan, ki ne szerette volna gyerekként, ha csak virtuálisan is átélni az autós száguldást, a Forma 1 hangulatát, az ádáz filmekbe illő üldözéses jeleneteket és hajmeresztő kaszkadőr mutatványokat? Szinte minden idősebb és fiatalabb játékosnak volt egy autóversenyzős korszaka, amiből vagy kinőtt vagy pedig úgy rabul ejtette, hogy még ma is gyakran beül egy virtuális autó volánja mögé. Én az előbbiekhez tartozom. Gyerekkoromban, egészen a Duke Nukem 3D megjelenéséig szinte csak az autósjátékok kötöttek le. (Leszámítva persze azt a drága, meghitt Prince of Persia korszakot, mikor az egész család a körmét rágta a monitor előtt egy-egy pálya végigjátszása alatt. De ez egy másik történet.) Ebbéli rajongásomnak fő oka, azon kívül, hogy már gyerekként közel kerültem a technikai sportokhoz, hiszen a miskolci salakmotorpálya mellett nőttem fel, talán az lehetett, hogy az első PC-s játék, amivel megismerkedtem nem más volt, mint a néhai Accolade Grand Prix Circuit nevü játéka.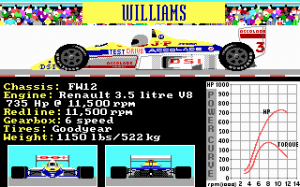 A Grand Prix Circuit szerintem minden régi játékos kezén keresztül ment. Mi csak gpcga-nak hívtunk, mivel ezzel a .exe-vel kellet behívni, ha CGA monitorunk volt, s bizony akkor, ott a Miskolci Egyetem Számítóközpontjában, ahol Édesapám dolgozott, többnyire olyan monitorok voltak. Hatalmas meglepetés volt, mikor végre színes monitoron is megcsodálhattuk az Accolade forma 1-es alkotását, amely eredetileg 1988-ban jelent meg C64-re, Amigára és PC-re. A játék nem volt hivatalos F1 szimulátor, de megtalálhattuk benne az akkori nagyágyú csapatokat, akiknek autóiból választhattunk. A Ferrari lassabb volt a többinél, de jól kormányozható, a Williams az arany középutat képviselte és volt a McLaren, amely ment mint a szél, de irányítani már nehezebb volt.
Akkoriban egészen jónak számított az a 2D grafika, amellyel az Accolade előállt, és üde színfoltnak számított, hogy végre FPS nézetben vezethettünk autót. Az akkori F1 szezon összes pályája szerepelt benne, időmérők, edzések, verseny, boxkiállás… Szóval minden adott volt egy forma 1-es őrülethez. Természetesen a nehézség is állítható volt, választhattunk automata vagy manuális váltó között, de akár szimulátor módba is kapcsolhattuk a játékot. Az utóbbi esetben jóval nehezebbé vált a kocsik irányítása. Abban az időben etalonnak számított a Grand Prix Circuit! Ja, és az intro zene… Azt hiszem még ma is el tudnám dúdolni!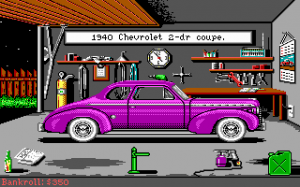 Egy egészen picit ugrunk az időben, nem egészen egy évet, mikor is 1989-ben megszületett az egyik legnagyobb autós klasszikus, a California Dreams Street Rod játéka, amely az 50-es, 60-as évek Amerikáját idézte fel. Talán az első teljes karrier móddal rendelkező játék volt ez, olyan alapmű, amely a mai gyűjtögetős, tuningolós, utcai versenyekre kiélezett játékoknak is alapjául szolgált. A Street Rodban adott kezdőtőkével gazdálkodva beruházhattunk autókra, szépítgethettük őket a garázsban, tuningolhattuk, majd ellátogathattunk a helyi bárba és párbajra hívhattuk a környék többi vagányát! Akár pénznyereményre, akár a másik verdájának elnyerésére is versenyezhettünk, mind a gyorsulási, mind az országúti összecsapások során.
Nagyon nagy hangulata volt ennek a játéknak, melyet nagyban alátámasztott a saját garázs és hogy bármit megváltoztathattunk a járgányunkon. Több tucat autó közül választhattunk, a festések, levonók és egyéb optikai tuningokon kívül még az autó motorjába és a váltóba is belenyúlhattunk. A Street Roddal megszületett az első igazi interaktív autóverseny! Letehetetlen volt. Ha akkor lett volna Internet, biztos minden srác a saját verdájával dicsekedett volna a fórumokon, de akkoriban inkább átmentünk egymáshoz, esetleg floppyn cserélgettük a mentéseinket.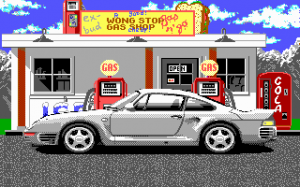 2007 — Test Drive Unlimited, azaz TDU. Valójában 1989 és "szauto"! Micsoda? Jogos a szemöldökráncolás, ugyanis a játék hivatalos neve csak úgy szimplán Test Drive volt. A szauto elnevezést mi aggattuk rá testvéremékkel, mivel a "szauto.bat"-tal lehetett elindítani. Azaz "Személyautó"! Ekkor indult hosszú és göröngyös útjára ez a brand, amely kétségtelen, hogy 2007-ben az Unlimiteddel sok sportautó játékot a sárga földig alázott. Akkoriban az Accolade gondozásában jelent meg, csakúgy mint a Grand Prix Circuit. Az első igazi személyautó szimulátornak tekinthető alkotásban több, akkor modern sportkocsi volánja mögé bepattanhattunk, mint például a Lotus Espirit, Porsche 911, Ferrari Testarossa, stb. Belső nézetből játszhattunk, és minden járgánynak korrektül le volt modellezve a műszerfala. Akkoriban gyakran játszottunk úgy, hogy egyikünk vezetett, a másik pedig beült mellé a monitor elé az "anyósülésre", és így drukkoltunk, olykor kritizáltuk egymást a versenyek alatt.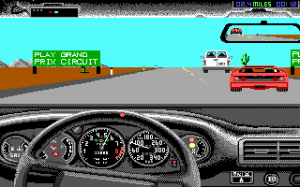 A játék szintén az USA-ban játszódott, és közúti, országúti forgalomban kellett eljutnunk A-ból B pontba. Ne gondoljunk free roamra, csőjáték volt ez. Viszont az akkori autósjátékok között messze ez számított a legnehezebbnek, hiszen ezúttal mind a rendőrökre, mind a szembejövő forgalomra és az ellenfelünkre is figyelnünk kellett. Nem volt ritka a borsos büntetés gyorshajtásért, vagy a szép kis frontális ütközés a szembejövőkkel. A második része, a The Duel ugyanarra a motorra készült, sok újat nem adott. Ám sajnos a The Passion, a Test Drive harmadik része ahelyett, hogy tarolt volna, rengeteg rajongót veszített a borzalmas irányításával.
A nagy áttörést kétségkívül az 1990-ben megjelent Stunts jelentette, amelyet az a legendás Brøderbund Software készített, amely a Prince of Persia részekkel is örökre bevéste nevét a játékok történelemkönyvébe. A Stunts minden idők legjobb autósjátéka, ez nem vicc. Ha azt vesszük, hogy durván 20 évvel ezelőtt, az akkori hardverelemekre a Brøderbund Software programozóinak sikerült összehoznia egy ma már megmosolyogtató "3D" grafikát és minimális fizikát, ennyi talán elég is… De nem, mert nem mindent a grafika vitt, bár megcsodáltuk a villogó féklámpákat, sokkal inkább maga a játékmenet kötött le mindenkit.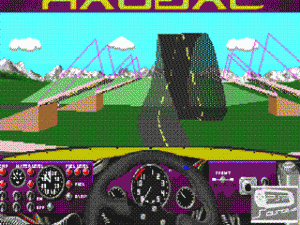 Mint a címe is jelzi, kaszkadőr autósként kezdhetjük a játékot. Tucatnyi autó közül választhattunk a Lancia Deltától a Jaguar Le Mansig. Személyes kedvencem az Acura NSX volt. A pályákon egy feladat volt; minél gyorsabban végigmenni. A versenypályák ugratókkal, szlalomokkal, dőlt kanyarokkal, hurkokkal és egyéb hajmeresztő elemekkel voltak telepakolva. Ha valaki megtanulta a Stuntsot, a fentebb említett játékok egyáltalán nem jelentettek kihívást.
Minden futamunkat rögzíthettük, megvághattuk és visszanézhettük. Tanulhattunk hibáinkból, s szinte profi versenyzőnek érezhettük magunkat. Ha pedig nem az óra ellen akartunk játszani, akkor több beépített, korrekt mesterséges intelligenciával rendelkező ellenféllel vehettük fel a harcot. Mindegyik versenyző máshogy reagált az eredményeire, más – más háttértörténetük volt. A Stunts legnagyobb kincse a pályaszerkesztő volt. Kedvünkre kreálhattunk pályákat tucatnyi elemből, majd a suliban cserélgettük a floppykat, ki-ki hozta a saját pályáit és körrekordjait, otthon pedig próbáltuk megdönteni egymás idejét. A játék annyira addiktív volt, hogy nem ritkán nagybátyám vagy apám is beszállt a versenyzésbe!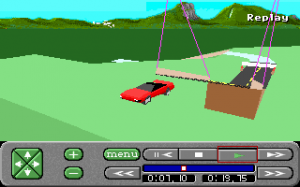 Tényleg nem túlzok; a Stunts az egyik legnagyobb autósjáték a PC játékok történetében, még ma, ebben a felduzzasztott, többnyire fércműveket ontó játékiparban is. Sok remake-kel próbálkoztak, ám idővel mind a feledés homályába merült. A mai felhozatalban talán a TrackMania sorozat tagjai állnak hozzá a legközelebb, bár a Stunts inkább volt szimulátor, mint arcade őrület.
A fentebb felsorolt játékok kivétel nélkül ingyen letölthetők bizonyos retro DosBox oldalakról. Egy próbát megérnek, ha másért nem, egy kis nosztalgikus kocsikázás kedvéért.
—Somesz—