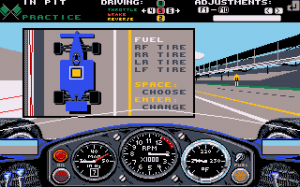 Folytatjuk a száguldást az elmúlt évtizedek sztrádáin, a homályba vesző, ma már elhanyagolt, gaz borította versenypályákon. A sorozat első részének nyitányához az Accolade Grand Prix Circuit Forma 1-es játéka adta meg az alaphangot, és ezúttal kacsintsunk újra az Egyesült Államok felé, ahol szinte minden sportágban különcködnek. Ami nálunk labdarúgás, az náluk NFL, s ami a világon és Európában Forma 1, az náluk Indycar. Így fogadjátok szeretettel a talán világelső Indianapolis 500 szimulátort.
1989-ben az EA gondozásában látta meg a napvilágot a Papyrus Design (jegyezzük meg ezt a nevet) által fejlesztett Indianapolis 500 – The Simulation című játék. A motorsport-rajongóknak talán nem kell külön ecsetelnem az amerikai indianapolisi oválpályán megrendezett versenyek mikéntjét és értékét. A lényeg, hogy aki helytáll Indianapolisban, az már félistennek számít a motorsport világában. A legendás amerikai versenypályán ma már mind Indycar, Nascar és egyéb nívós versenyeket is megrendeznek, de mi most maradjunk a Papyrus drágaságánál.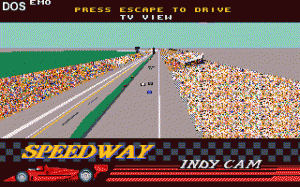 Mikor először ültem be az egyik indycar autó volánja mögé, hamar rá kellett jönnöm, hogy ez bizony korántsem egy kategória az Accolade F1 játékával. Az Indianapolis 500 kőkemény szimuláció, erről tanúskodott a többször falnak csapott Marc/Cosworth-om is. A játékban a legendás Indianapolis Motor Speedway-en évente megrendezésre kerülő 500 mérföldes versenyen kell helytállnunk formula széria autókban. Három autó közül választhattunk, a már fentebb említett Marc/Cosworth, Lola/Buick és a Penske/Chevrolet. A három járgány hasonló szintet képviselnek, mint a Grand Prix Circuit Ferrari, Williams és McLaren autói, azaz van a jól kormányozható de lassú, az átlagos és a nehezen vezethető, de piszok gyors járgány. Először teljesen mindegy mivel vágunk neki a versenynek, úgyis a palánkon kötünk ki. Ugyanis az autó beállításainak legalább olyan szerep jut, mint a pilótának. Féktáv, terelőszárnyak és sebességfokozatok — mind állíthatóak voltak a játékban. Ezért leginkább annak volt esélye, aki először képes volt időt és energiát rászánni egy kiadós edzésre.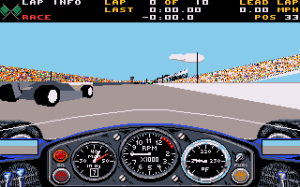 A fejlesztők azért igyekeztek az arcade felé hajló játékosokat is kielégíteni több kevesebb sikerrel. Több versenymódot kipróbálhattunk, 10 körös verseny törhetetlen autóval egészen a 200 körös valós versenyig. Sajnos az arany középutat nem találták el a fejlesztők, ugyanis egy 10-30 körös verseny édeskevés volt az igazi Indianapolis-érzés megteremtéséhez, s nem mellesleg edzés nélkül képtelenség volt harminc járgányt magunk mögé utasítanunk. Az Indianapolis 500 – The Simulation egy egészen egyedi, új játékélménnyel is bővítette a palettát, hiszen már 1989-ben visszanézhettük a verseny főbb eseményeit, akár több kameraállásból is. Kétségkívül egy látványos, korrektül összerakott játék volt, de nehézsége és hossza miatt keveseknek vált kedvencévé a baráti körömből.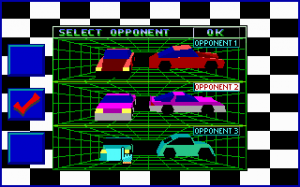 Az első részben már bemutattam a korai kilencvenes évek legnagyobb autós játékát… khm.. igen, a Stunts volt az. 1990-ben viszont egy másik fejlesztőgárda is előállt egy hasonló játékkal, amely az autós kaszkadőrség szépségeit próbálta elénk tárni. A Sphere-fejlesztette Stunt Driver nem tudta trónfosztani a Brøderbund játékát, de ettől függetlenül egy egészen kellemes autóversenyt sikerült összerakniuk.
Hasonlóan a Stuntshoz, itt is építhettünk pályákat, de pont ez volt az a pont, ahol a Driver alulmúlta a nagy riválist, hiszen lényegesen nehézkesebb szerkesztővel bírt, gagyi pályaelemekkel, így nem nagyon lehetett egyedi pályákat összehozni. A grafika pedig hiába volt szebb, a hiányzó autólicencek és a túlságosan arcade irányítás miatt színtelen, szagtalan, íztelen játékot kaptunk kézhez. Amivel többet adhatott a Stuntsnál, az talán a három ellenfél elleni küzdelem volt. Sajnos ez sem sikerült elég meggyőzőre, mivel drága vetélytársaink gyakran csaltak és kilöktek minket a pályáról, közben persze hevesen dudáltak.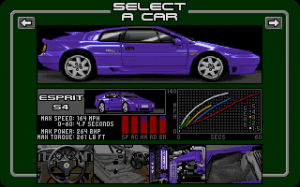 Ha már az arcade játékoknál tartunk, akkor érdemes megállnunk egy pillanatra egy felettébb szórakoztató, látványos, gyors és kegyetlen autóversenynél, a Lotus 3 – The Ultimate Challenge játéknál. Az 1993-ban megjelent alkotás a Lotus hivatalos játéka volt. Emlékszem, a nyolcvanas-kilencvenes évek autósvilágában lényegesen népszerűbb és "menőbb" autó volt a Lotus, mint mostanság. Ezért nem volt egy srác sem, akit ne hozott volna lázba egy Lotus Espirittel való száguldás, még ha csak virtuálisan is.
Ma már megmosolyogtató a grafika, hiszen mobiltelefonon is különb autóversennyel futhatunk össze, de 1993-ban ez még lenyűgöző volt. S az sem volt utolsó szempont, hogy a tucatnyi pályán kívül, több időjárási körülmény között is próbára tehettünk vezetői képességünket. Kifejezetten hangulatos volt egy-egy havas verseny, vagy a száguldás egy napsütötte sztrádán. Mindent testre szabhattunk egy-egy gyors versenyhez.
További öröm volt, hogy ezúttal osztott képernyőn is versenyezhettünk barátaink ellen, így gyakori volt, hogy számtech órákon egy gépnél két ember ült, majd jöhetett a szétültetés! (Ehhez persze tudni kell, hogy a sulink még 1997-ben is 286-os és 386-os gépeket nyúzott. Így a Duke Nukem 3D csak a tanári gépen futott, de erről majd később…)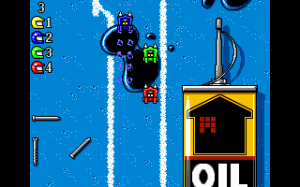 A kilencvenes évek közepén viszont nem csak a belső és külső-hátsó nézetes autós játékok arattak nagy sikert, de a ma már totálisan kihalt, felső nézetes versenyzésben is akadt pár gyöngyszem. Kezdjük rögtön a Codemasters legendás "matchbox" versenyével, a Micro Machinesel, amely 1994-ben látta meg a napvilágot. A matchboxot szándékosan tettem idézőjelbe, ugyanis kevesen tudják, hogy a valóságban is létezik Micro Machines, s ezeket a Matchbox autóknál kisebb járgányokat a nyolcvanas, kilencvenes években USA szerte lehetett kapni. A Codemasters ezeket a csöppségeket helyezte át a virtuális világba egy jópofa versenyszezon erejéig.
Az apró járgányokkal konyhaasztalon, íróasztalon, fürdőkádban és akár biliárdasztalon is versenyezhettünk. Jópofa, poénos és ötletes játék volt. Természetesen minden pályához egy adott autó tartozott, így a homokozóban terepjáróval, a biliárdasztalon formula autóval, a kádban motorcsónakkal kerülgethettük a gumikacsákat. Nem volt egy bonyolult játék, de nem is a felnőtt és kamasz korosztályt célozták meg a Codemasters fejlesztői. A Micro Machines nagy sikereket könyvelhetett el, s idővel folytatások is készültek. Természetesen ebben a játékban is lehetőségünk volt egymás ellen játszani, így szinte kimeríthetetlen szórakozást nyújtott a játékosoknak.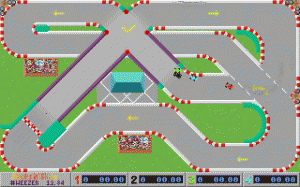 1995-ben, egy finn programozó, nevezetesen Timo Kauppinen unalmában készített egy ingyenes DOS-os játékot, amely rövid időn belül hatalmas népszerüségre tett szert. Ez a Slicks'n'Slide névre keresztelt finn csoda hamar meghódította a világot. De miért is? A felső nézetes autóversenyben akár négyen is összemérhettük erőnket egy – egy pályán, egy klaviatúra előtt ülve. Azt hiszem nem kell elmondanom, hogy mekkora élmény volt, mikor négyen begubóztunk egy monitor elé és sorra aláztuk egymást a bizarr pályákon. A felső nézetes játék plusz érdekessége az volt, hogy egy pálya kitöltötte a teljes képernyőt, így nem holmi, olykor idegesítő sidescroller játékkal álltunk szemben, melyben gyakran nem tudhattuk előre, hogy milyen kanyar következik, mint amilyen mondjuk a Micro Machines volt. A Slicks'n'Slide-hoz tucatnyi rajongói pálya jelent meg, és akkor már az interneten is lehetett töltögetni ezeket a mesterműveket, így külön kis közösségi oldalak alakultak, természetesen az akkori technológia keretein belül.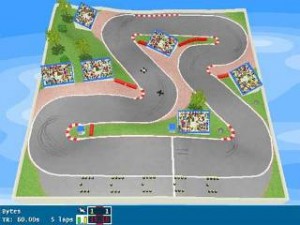 A Slick'n'Slide fejlesztése ugyan abbamaradt, de a szelleme tovább élt. Az ezredforduló után ugyanis néhány szabadúszó programozó egy igényes remake-el állt elő, nevezetesen a Generallyval. Ez a játék teljes joggal nevezhető a Slicks'n'Slide szellemi utódjának, hiszen ugyanazt a játékmódot és élményt képes nyújtani, mint a Timo Kauppinen-féle előd. A Generallyt is finnek készítették, de ma már bármilyen nyelven hozzáférhető a cucc. Aki letölti és kipróbálja, nem fog csalódni. Ezt is érdemes többen játszani, páratlan játékélményben lesz része annak, aki összecsődít pár barátot, s rendez egy frankó Generally kupát, hiszen akár hatan is beülhetünk a monitor elé. Igazi társasjáték! A Generallyhoz természetesen pályaszerkesztőt is készítettek a finnek, az egyszerű 3d grafika és fizika pedig igazán varázslatossá teszi ezt a remekművet.
Tudom, az utolsó bekezdésben kicsit elkanyarodtam a retro témától, hiszen a kakukktojás Generally már nem a kilencvenes évek autósjátékai közé tartozik, de úgy érzem nem mehettem el szó nélkül a Slicks'n'Slide tökéletes utódja mellett. Ezzel együtt a Padlógázzal a 80-as és 90-es években I-II. cikkek csak betekintést nyújtott a témába, hiszen az ezredforduló környékén is születtek klasszikusok.
—Somesz—