A legtöbb 90-es években edződött játékosnak a Duke 3D megjelenéséig a Doom szériák jelentették az etalon FPS-t. Ám kétségtelen, hogy a műfaj alapjait az 1992-ben megjelent Wolfenstein 3D rakta le, amelynek motorjára később több játék is érkezett a piacra, annak ellenére, hogy a Doom mozgatásáért felelős program már jóval túlmutatott az elődön. Az egyik legmélyebb modifikációt az Apogee végezte el a Wolfenstein 3D motorján, minek következtében tucatnyi új lehetőség bontakozott ki a fejlesztők előtt. Ezeket a lehetőségeket igen jól kiaknázták az egykori Apogee-nál, hiszen az 1995-ben megjelent Rise of the Triad belsőnézetes akciójátékukban már szinte rá sem ismerni az egykor führert és annak gonosz testőreit mozgató motorra. A Rise of the Triad: Dark War (továbbiakban ROTT) hazánkba természetesen megkésve érkezett, én egy Apogee reklám CD-n futottam bele ebbe az alkotásba, amely ugyan már a Duke 3D-t is tartalmazta, mégis a ROTT is képes volt a képernyő elé szegezni. Miért pont a ROTT, és az első Wolfenstein után miért ő nálam a másik nagy klasszikus? Erre keresem a választ rövid ismertetőmben, amely szokásomhoz híven, mivel nosztalgiázunk és emlékidézünk, egy picit ismét személyesebb hangvételű lesz.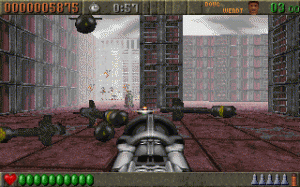 A shareware verzió The H.U.N.T. Begins néven jelent meg, és már a címében szerepelt az a titkos speciális alakulat, a High-risk United Nations Task-force, amelyet irányítva szembe kell szállnunk egy gonosz, világuralomra törő titkos szektával és meg kell akadályoznunk a térhódítását. Jól kezdődik, de nem kell véresen komoly sztorira gondolni. Adott volt öt HUNT karakter, két hölgy és három férfi akik közül választhattunk. Mindnek egyedi tulajdonsági voltak — na persze, ne gondoljunk szerepjátékos mélységekre, ugyanis a tömeghenten kívül más nem nagyon várt ránk, így csak az egyikük soványabb, a másikuk jobban lő, a harmadik erősebb stb. A játékmenetet nagyon nem befolyásolta, hogy kivel is kezdtünk neki az akciónak, leginkább a kiválasztott karakterek beszólásai miatt volt érdemes mind az öttel kipróbálni.
Már az indításkor, a nehézségi fokozatok nevében előjött a játék poénos mivolta. Csak egy példa a legkönnyebb fokozatra: "Dig my grave now", azaz ásd meg a síromat! Ez a fajta viccelődés végigkísérte a játékot, hiszen menet közben olyan extra képességekre is szert tehettünk, melyek segítségével akár kutyává változva harapdálhattuk össze a gonosz katonákat. Stílusosan Dog Mode-nak hívták ezt az extrát, de volt természetesen God Mode is, melyet ha felszedtünk, karakterünk kéjes ásítozásba kezdett, majd villámgömböket dobálva kezéből leradírozta a képernyőn szereplő összes ellenséget! S akkor, ha már a poénkodásnál tartunk, még említsük meg a fegyverarzenál egyik legidiótább a darabját, a Drunk Missile-t, amellyel egyszerre akár több rakétát is kilőhettünk, melyek össze-vissza kacsázva röpködtek az ellenség felé. Amennyire poénos volt a játék, olyannyira volt veszettül morbid is! Természetesen ma már 18+ besorolást kapna, hiszen a gép előszeretettel dobott akár egyszerre 10-20 támadót egy forgó pengékkel megspékelt terembe. Mi végignéztük a mészárlást, aztán diadalittasan átsétáltunk a csatamezőn! (A remake is korhatáros — Garcius.)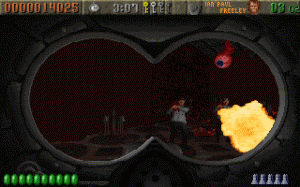 De mi volt még ebben a játékban az állandó idétlenségen kívül, ami megfogott anno? A játékmenet, a szintek tervezése és kivitelezése. Ma már részben elavultnak számítana az a játékmenet, amivel 1995-ben az Apogee előállt, hiszen a belsőnézetes, minimális taktikázás nélküli tömeghentre ma már nem lenne akkora kereslet a piacon. (Ó, dehogynem!!! — Garcius) Ennél azért mégis több volt a ROTT. Hiszen azon túl, hogy gonosz "náciklón" katonákat lövünk halomra a játék 80 százalékában, akik előszeretettel kiabálnak ránk szörnyűségeket és szórják felénk átkaikat és golyóikat, a ROTT ugyanígy tartalmazott platform és logikai elemeket is. A felturbózott Wolfenstein 3D motor új lehetőségeket nyitott a fejlesztőgárdának. Igazából a wolfie motorjára szinte rá se ismertünk, hiszen végre égbolt, horizont és két méternél magasabb falak és ajtók is jelentek meg a játék során. Nem mellesleg a textúrázás és az animáció is erősen finomnak számított az akkori standardokhoz képest. A magas falak közt ugrálni nem tudtunk, de a fejlesztők lebegő padlókat, platformokat tettek be nekünk, továbbá trambulinok segítségével a levegőbe is repíthettük magunkat, ezzel átugorva néhány csapdát. Gyakorta ki kellett logikáznunk, hogy egy – egy lebegő és mozgó platform segítségével hogyan juthatunk át a földből kilövő lángnyelvek és a falból kicsapó tűzgolyókon. Ugyanígy mozgó falak, darálókések, sínen közlekedő, rakétákat köpködő droidok vártak még ránk. Egyszóval teljes akció és élvezetes platform elemek! S mint akkor divat volt, minden szintet pontozott a gép. A ROTT – ban mérték az időt, mi pedig színes életkereszteket gyűjtögethettünk, melyek plusz pontot hoztak a konyhára. Fentebb már említettem a speciális módokat, melyeket beszerezhettünk, gondolok itt a Dog Mode-ra. Ezekből több is volt, így repülhettünk, tűzellenállást is szerezhettünk, de be is rúghattunk, és ilyenkor a képernyő a feje tetejére állt, karakterünk pedig nagyokat sóhajtott és böfögött közben!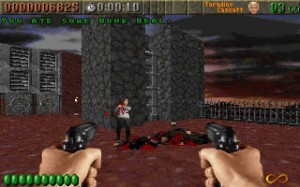 A design tekintetében a San Nicolas szigetén fekvő monostor erősen hajazott egy amolyan misztikus, "wolfies" náci erődre, csak a horogkeresztek helyét a szekta jelképei váltották fel. Egyaránt kalandozhattunk a szabad ég alatti falak között, de belső helyszínekre is eljuthattunk. A vörös tégla, terméskő, acélszerkezetek és vasrácsok mind atmoszferikus hangulatot teremtettek, nem mellesleg a lebegő pallók, melyeknek aljai vörösen izzottak. Jól eltalálták az összképet.
A multi részét sajnos nem volt alkalmam nagyon kipróbálnom, de a játékhoz tartozó Com-Bat rendszerben azért élvezetes csatákat vívhattunk egymás ellen, lehetett az gyűjtögetős verseny vagy egyszerű deathmatch. Tehát 1995-ben, a Duke 3D előtt és a Doom debütálása után a Rise of the Triad egy nagyon hangulatos, ötletes és mókás, mi több, egyedi gyöngyszem volt a kategóriájában. Sokszor nevettetett meg, sokszor nyújtott kellemes kikapcsolódást, és jó dühlevezető is volt. Ha pedig elakadtam, akkor bátyám felváltott, s ez így ment jó párszor. Ma már persze elég nehéz visszaszokni a csak billentyűzet vezérlésre és nem egérrel lövöldözni és mozogni, de ha sikerül felélesztenünk az oldschool gamer agyféltekét, akkor hamar ráérzünk a játék ízére. A ROTT végre újra beszerezhető, hiszen a gog.com sorra nyomja ki a régi Apogee és 3D Realms játékokat, és az ár sem egetverő egy ilyen klasszikusért. Majd elfelejtettem, kilépni elég nehéz belőle… aki ismerte a játékot tudja mire gondolok. Nehéz döntések elé állít minket a HUNT, ha olajra akarunk lépni!
—Somesz—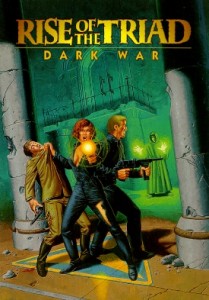 Cím: Rise of the Triad: Dark War
Fejlesztő: Apogee Software
Kiadó: Apogee Software
Honlap: nincs
Stílus: FPS, tömeghent
Ami tetszett:
hangulat
fekete humor
Ami nem tetszett:
hajlamos az ember eltévedni egy-egy pályán