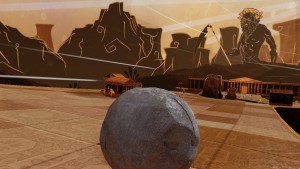 Sziszifusz megunta, gondolt egyet és hozzávágta Hadészhez a kősziklát. Nagyjából ennyi történt a Rock of Ages alternatív történelemkönyvének első fejezetében. Már az alapötlet zseniális, hát még a groteszk, a senkit és semmit nem kímélő játékmenet melyet még talán Leonardo da Vinci is élvezne, nem beszélve a spártai háromszázról. Manapság lényegesen többre tartok egy-egy indie játékot, mint a tonnaszámra futószalagon legyártott AAA kategóriás, millió dollárokat felemésztő majd bezsebelő többnyire nulla innovációval és értékkel bíró agyhalott játékot. A jó indie játékfejlesztőknek nem kell megalkudniuk a kiadók profitéhségével így egy-egy játékba minden merészségüket megvillanthatják. Az ACE Team kiváló példája ennek az irányzatnak, hiszen 2009-ben a Zeno Clash játékukkal már messze túllőttek a célon, jó értelemben. Most sincs ez másként a kőgörgetős akció-stratégiának titulált Rock of Ages őrületük esetében sem.
A játék alaptörténetéről már a bevezetőben szóltam, s remélem nem kell magyaráznom ki is az a Sziszifusz és mit is hívunk sziszifuszi munkának. Így nézzük rögtön a játékmenetet, amely már önmagában szórakoztató. Minden pálya elején rövid kis animáció ismerteti velünk az adott évszázadot melyben végig kell görgetnünk a sziklagolyót. Megismerkedhetünk az ellenféllel is, aki Hadésztől kezdve Leonardo da Vinci-n át akár maga Napóleon is lehet, s bizony ők sem restek sziklát görgetni a mi térfelünkre. A videók viccesek, mulattatók és végtelenül groteszkek. Semmi sem szent az ACE Teamnek, még Leónidasz sem, hiába "This is Sparta".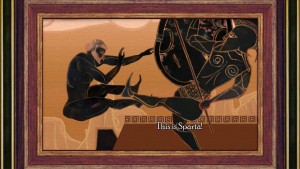 A sziklagolyót mi irányítjuk. Jobbra-balra, fékezhetjük és ugorhatunk is vele. A cél, hogy a lejtős pályán végiggurulva, a sérülést elkerülve és minél több ellenséges tárgyat megsemmisítve végül betörjük a pálya végén álló ellenfelünk várkapuját, majd nemes egyszerűséggel agyonnyomjuk sziklánkkal. A versenygurigázás ott bonyolódik, hogy velünk egy időben az ellenfél is gurít, így a mi kapunk is veszélyben. Ezt elkerülendő a gurítások előtt különféle védelmi pontokat építhetünk fel a pályán, a tehenek és elefántok például lelökik a golyót, az őrtornyok útját állják, a légballonokból rakétákkal lőhetik de akár szélgeneráló fújtatókkal és propellerekkel is elterelhetjük az ellenfél golyóját. Ez legyen a játék tower defense, avagy stratégia része. Természetesen ilyen védelmekkel az ellenfél is rendelkezik, így érdemes körültekintően gurítanunk.
A játék szerencsére nem egyszerre zúdítja ránk a védelmi lehetőségeket. Idővel pénzt kereshetünk, csinosíthatjuk golyónkat (tüzes golyó, vaspántos golyó stb.) és erősebb védelmeket is építhetünk. Egy-egy meccs addig tart, míg valamelyik fél be nem viszi a végső "gurítást". Ha ügyesek vagyunk, néha egy golyóból is meglehet úszni egy meccset, ha nem törjük össze túl hamar a sziklát és nem bökdösnek le az ellenfél tehenei.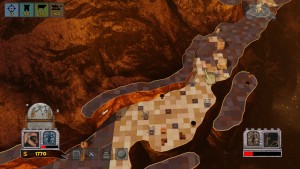 A pályák változatosak és hangulatosak. Minden díszlet a helyén, s minden klappol az adott korszakhoz. Ókor, középkor, reneszánsz, rokokó teljesen mindegy, a Rock of Ages rendkívüli művészi túlzásokkal és groteszk látványvilággal oldja meg a korszakok ábrázolását. A papírmasékra hajazó főellenségek már önmagukban vigyort csalnak a képünkre. A hintalovon fordítva ülő Napóleon, a számozott spártai katonák 300-ig, és az ágyúval tüzelő Dávid szobor valami zseniális hangulatot kölcsönöz a játéknak. Mint egy fordított történelemóra. Mikor a töriórát, a tantárgyat kevésbé szívlelő, de egyébként intelligens és mókás kedvű csintalan diákok tartanák a történelemtanároknak.
Nyolc eurót messze megér a Rock of Ages, főleg, hogy állítólag osztott képernyőn is játszható és a kampányon kívül más egyéb játékmódok is szerepelnek a repertoárban. Aki szeretné ötvözni a művészetet a szórakozással és szívesen rákoppintana Napóleon orrára hát ne habozzon. Van, mikor egyáltalán nem sziszifuszi sziklát görgetni.
 —Somesz—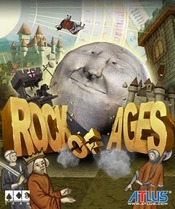 Cím: Rock of Ages
Fejlesztő: ACE Team
Kiadó: Atlus USA
Honlap: http://www.atlus.com/rockofages/
Stílus: indie, akció-stratégia
Ami tetszett:
az alapötlet zseniális
groteszk történelmi háttér
művészi megvalósítás
Ami nem tetszett:
nem volt különösebb