Összefutottam tegnap egy sráccal, ismerős ismerőse, fiatalka még. Beszélgettünk egy darabig, főként játékokról, és kiderült, hogy idézem: "Még csak egy RPG-vel játszottam, a Diablo II-vel."
Közöltem, hogy tudtommal az nem RPG, csak színesebbé tették a karakterfejlesztéssel. Erre: De ki a fasz vagyok én, hogy jobban tudom? Mondom neki senki, senki, nyugi, akkor legyen RPG a Diókettő. Ennyiben maradtunk.
De tényleg, ki is vagyok én, hogy véleményt nyilvánítsak? A srác úgy tizenhat lehetett, én nagyjából tizennyolc éve foglalkozom szerepjátékokkal papíron. A szekrényeimben ma is ott pihen nagyjából 20-22 különböző papíros RPG és talán 5-6 stratégiai játék, némelyik saját, időtől fakuló kézírásommal, mivel az eredetit csak kölcsönkértem, amíg lefordítottam.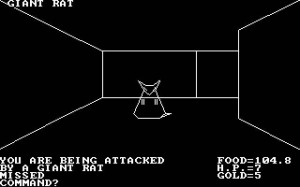 Ám ami a GD és olvasói szempontjából talán mérvadóbb, hogy a CRPG-k sem várattak magukra sokáig. Valamikor harmadikos szakközepes koromban kaphattam azt a 286-ost, amit apámék egy rúd házilag készített szalámiért vettek, és aki összerakta, az egy fekete-fehér, kisképernyős Unoszty tévét buherált meg, hogy a négyszínű CGA kártya elfogadja monitornak. Gyakorlatilag 16 szürke árnyalatot simán ki lehetett erőszakolni belőle. Na ez látott sok érdekességet, a Stunt és a PoP 1-2 mellett olyan nyalánkságokat is, mint az Ultima IV, a Death Knights of Krynn és az Eye of the Beholder legalább két része.
Szóval lehet, hogy van némi alapja a véleménynyilvánításnak, legalábbis az én oldalamon. Nuh, de legyen elég ennyi a személyes sirámmal keretezett bemutatkozásból! Inkább jöjjön a nosztalgia!
A CRPG megteremtőjének Richard Garriott számít az Akalabeth című aranyosságával, ami gyakorlatilag egy fekete háttéren legfeljebb tíz fehér vonalból összeállított, pálcikaemberes dungeon-játék volt. Ebből azután kifejlődött még kilenc Ultima rész, amelyből a leghíresebbek egyikének számító négyest megtaláljátok Kutyuséknál (www.homeoftheunderdogs.net) felújított változatban. Win7-re nem garantálom az indulását, de azt igen, hogy ha megy, akkor megtudhatjátok belőle, milyen papíron szerepjátékot játszani. Vegyük csak azt a momentumot, hogy a beszélgetésekhez akár teljes angol mondatokat is begépelhetsz. (Persze, a cselesek és a lusták idővel kitapasztalják ― vagy keresnek egy leírást ― a használható kulcsszavakat, de abban mi az élvezet?)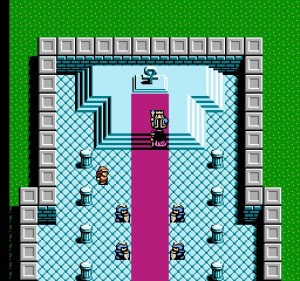 Persze, a fentebbi címek előtt már létezett a műfaj, de ezekből is kiderül, hogy valaha vagy az számított CRPG-nek, ami egy papíros szerepjáték rendszerén és/vagy világképén alapult, vagy ami megütötte a papíros játékok szintjét. Az előbbi kategória kiváló példái a Dragonlance játékok, amely világkép a D&D egyik örök favoritjának tűnik, nem kicsit a Weiss-Hickmann-féle tökéletes könyvtrilógiának köszönhetően.
A másik favoritot, a Forgotten Realms világképet ugyancsak a kilencvenes években futtatta fel a digitális színtéren az Eye of the Beholder. Minden jog a Strategic Simulations Inc. kezében volt, és bizony az SSI játékok megérték a maguk árát. A cég gyakorlatilag az adott technikai szinten elérhető maximumot nyújtotta az AD&D rendszer és hangulat képernyőre konvertálása terén. Ehhez a programozói gárdához köthető még a Pool of Radiance és a stratégia öregebb kedvelői által talán ismert Panzer General is. Meg még vagy száz cím, mielőtt a cég előbb a Mindscape, azután a Mattel, végül az Ubi részévé vált, akik aztán szépen nyugdíjba is küldték a brandet.
Az utolsó felvásárlás 2001-ben, azaz kilenc éve történt, és nézzük meg, mit dob ki az Ubi boltja RPG cím alatt: Beyond Good & Evil, Lost, CSI, Catz, Dogz, Horsez, Grey's Anatomy, Dark Messiah. Nem akarok szmájlikat tenni a cikkbe, de szerintem érthető, ha ideképzelek néhány hüledező, szemforgató kis arcot.
Lépjünk át más nosztalgikus portálkövekre, ha szabad ilyen műstílusosan és mesterkélten fogalmaznom! Igen, igen, jól gondoljátok, kedves "öregek", a Baldur's Gate-ről és társairól van szó, azaz a második részről, a Planescape: Tormentről, az Icewind Dale-ről. Szép kis akció-RPG felhozatal volt ez annak idején, és a szociális terep háttérbe szorulásáért egyértelműen az alapként felhasznált papíros eredetű szabályrendszert okolhattuk, amelynek a nevét már nem írom ide többször, fentebb megtörtént. A CRPG-fanok akkor mennybe menesztették a BioWare-t, és azóta is szeretik ott tartani, pedig nem biztos, hogy megérdemli.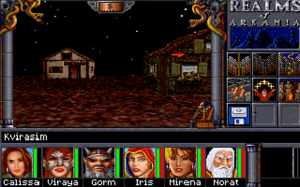 Mert hát valljuk be, Shepard parancsnok a maga egyszerű kis karakterfejlesztésével és tízes skálán kettest érő szociális környezetével (a Mass Effectben gyakorlatilag semmilyen befolyást nem gyakorolhatsz a sztorira) hiába kínál feszes, pörgős, sztori alapú akciójátékot, RPG-ként emlegetni kissé túlzás. Na meg klónozták és egyszerűsítették a második részhez. Ha ehhez hozzávesszük az előtte kiadott Jade Empire-t, akkor kezd már derengeni, hogy itt korántsem egyedi alapötletekből, hanem egy jól működő receptből dolgoznak a készítők. Félreértés ne essék; nem szólom meg ezeket a játékokat ― akció-kaland kategóriában valóban kiemelkedőek, de ne nevezzük már lónak a szamarat, azaz ne verjük át a szerepjáték-élményre vágyakozókat azzal, hogy kibővítjük a "CRPG" fogalmát! A Dragon Age már felcsillant valamiféle reményt, de sajnos a BW valahogy képtelen túllépni azon a mozzanaton, hogy a hős az, aki kismillió ellenfelet le tud ölni a kalandjai során. Pedig annak idején, a Tormentben egy eszes karakterrel még számos helyzetet meg lehetett oldani harc nélkül.
A BW mellett az Attic próbálkozott még be a német D&D-ként emlegetett Drakensang világával és a Realms of Arkania trilógiával. A BioWare játékai mellett nem csoda, hogy háttérbe szorult ez a sorozat, de erre később is találunk majd példát. Igazi egyediséggel a kilencvenes évek második felében, a retro-futurizmus egyik előfutáraként felbukkant Fallout tudott szolgálni, ezáltal pillanatok alatt felverekedte magát a fentebb felsorolt fantasy sikerek melletti trónszékekre. Az első és a második rész az Interplay nevéhez fűződik, amely csapatról két dolgot érdemes tudni: a játékaik hírhedten bugosak és híresen ötletesek voltak.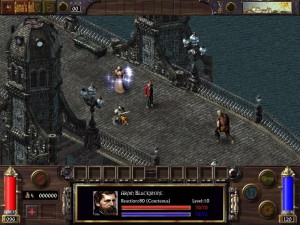 Ezt bizonyítja az Arcanum is, amelyben a Fallout szabályrendszerének igen jól kidolgozott továbbgondolásával láttak el egy fantasy/gőzpunk keverék világképet. Vadul hangzik? Az is. Elég annyit megemlíteni még róla, hogy ez az egyetlen olyan játék a világon, amelyben a párbeszédek kiindulási alapjában benne foglaltatik a karaktered faja, neme, szépsége, karizmája, intelligenciája, jelleme, háttere, és mágia/technika terén való irányultsága. (Hiányérzetem van; lehet, hogy kihagytam valamit?)
Azután szépen csendben átsétáltunk a kétezres évekbe és sírt a szánk, hogy miért nincs normális CRPG a piacon. A haverjaim még öt év múlva is a Fallouttal és a Baldur's Gate-tel játszottak (ez utóbbin nagyot dobott a netes támogatás), mert a BioWare-féle Neverwinter Nights megint csak akció-kalandjáték lett. Jó, oké, D&D alappal készült, tehát nem is vártunk nagyon mást, de abban azért reménykedtünk, hogy a második részben majd lesz némi szociális oldal is, illetve talán kibővülnek a lehetőségek.
Főként azután, hogy az NWN első részével egy évben jelent meg a Morrowind és kicsivel előbb a Gothic. Hosszan lehetne értekezni róla, hogy mennyire sokat ért az előbbiben a Speech, azaz beszéd jártasság, illetve mennyire volt interaktív a környezet az utóbbiban. Röviden a lényeg: volt honnan tanulni, de az NWN 2 mégis olyan unalmas lett, hogy nem tudtam végigjátszani ― tipikus "monszter-tépé-artifakt" játék, ahogy mifelénk jellemzik az ilyeneket.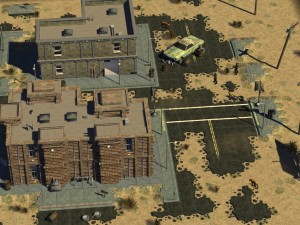 Az effajta játékok lényegét és legjobb paródiáját még sok évvel korábban, az első internetes fantasy és RPG magazinok (akkoriban ez még annyira új volt, hogy a fantáziátlan "Net-Újság" címmel is kíváncsiságot ébresztett az emberekben) egyikében adta meg egy ismerősöm (igen, nekem is jelent meg benne cikkem) a következő párbeszéddel:
– Hol?
– A hegyekben.
– Mi?
– Sárkány.
– Mennyiért?
– 100 arany per fő.
– Oké, készítsd a jutalmat, holnap hozzuk a fejét.
Szem elől tévesztve az eddigi laza időrendet és szem előtt tartva a terjedelmet ugorjunk a dolog végére! Egyértelmű, és az MMO-korszak naponta bővülő terméklistája is tökéletesen alátámasztja, hogy az akció minden másnál eladhatóbb. Ebből a szempontból nézve nem csoda, hogy a CRPG műfaj elkurvult, és az egekig kell magasztalnunk az olyan ritka gyöngyszemeket, mint a Fallout 3, a The Witcher és a Fable. Mindegyik a maga jogán, egyedi világképpel és szabályrendszerrel hódította meg a rajongói szíveket.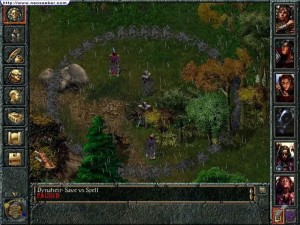 (Mielőtt valaki túlzott kritikai hajlamokat érez magában ezzel kapcsolatban, közlöm, hogy a Dragon Age a marketing miatt maradt ki a felsorolásból. Ugyanis a BW azzal kezdte, hogy elterjesztette: a Baldur's Gate szellemi örököséről van szó. Ha ez igaz, akkor modernizálásnak, ha nem, akkor trónbitorlónak számít. Egyik esetben sem nevezhető egyedinek, még ha szépen ki is lett dolgozva.
Sőt; sok minden más is kimaradt, még jóval fentebbről, mint például a Final Fantasy eredetileg konzolos, de PC-re is átportolt részei, vagy a Might and Magic sorozat. Az ok igen egyszerű: most én nem ismeretterjeszteni szándékozom itt.)
Nem akarok válaszokat adni. Igazán kapni sem, mert tartok tőle, hogy a válaszok nem a reményeimet, hanem a félelmeimet igazolják. Ellenben a kérdéseket szívesen felteszem, így, megválaszolatlanul:
Ha ennyire keresni kell az egyediséget az utóbbi idők felhozatalában, akkor mégis, hová tartasz, merre jársz, kedves CRPG?
Garcius