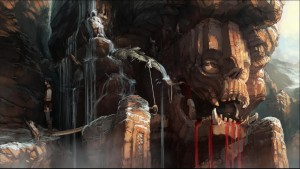 Some Pen and Paper RPG worlds are adopted to video games time and time again, thanks not to the never ceasing worship of fans but to these worlds itself for being such great hits. For example, there are innumerous Forgotten Realms games, and the newest is the much awaited Neverwinter MMO from the software-welders of Cryptic. The situation is more or less the same with The Dark Eye adaptations; after the recent Drakensang Online, the Chains of Satinav was released in 2012, and it exceeded my expectations.
I already wrote about and glorified the world of the German The Dark Eye on GameDroid, in a review of Drakensang: The River of Time, so I don't enter into details too much. In essence, it is a more than 30 years old role-playing game of German characteristics like precision and complexity, but it has a mostly average world setting. No wonder it was called German D&D once.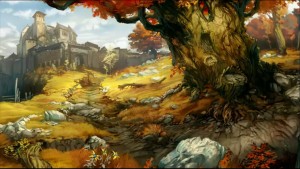 More than one reasons made me glad to see this game in the shops. On the one hand I am a quiet fan of The Dark Eye, and I like to roam in the world of Drakensang. For me it seems more collected than its American parallels. I don't really know why, but I have a feeling that in spite of being an average fantasy world, Drakensang is different somehow.
On the other hand I am a quiet fan of the point and click style too. I don't collect pnc games, but I readily appreciate this interactive kind of storytelling is, and I like to test my logic on the challenges. Syberia is one of my all time favs, and Machinarium also gave several pleasant game hours.
It is just reasonable that I picked up on the meeting of my two favorites. And they didn't made me disappointed. In my memories, the story was like reading a book, and the game was sometimes hard but always logical in the given situations.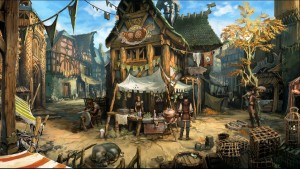 Geron, the aide of the local bird-catcher has a really bad reputation. Of course, the breaking fragile things around him don't help a bit, and partly because of this, partly because of a bonfired Seer's last divination the people consider him cursed. Of course, the Seer said that Geron brings destruction to the country.
Of course, destruction will come from another source, but first Geron goes to the forest for some fairy water, and — what a surprise — he meets a fairy there. Of course, Nuri is not that little girl with wings but a charming human-like girl with so much naivety, that it assists to the destruction of the Kingdom of Andergast in such measure as the deeds of the Seer.
So, there is a page, a fairy and an evil man. They are the characters of a classic fairy tale by no chance, because the whole game is like classic fairytale in a fantasy setting. I would call it children-friendly, if towards the end of the story it wouldn't change into some grim, gothic style with billions of crows, nightmares, insanity and bones, and with a heroic death at the end.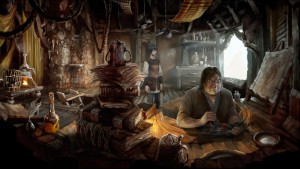 In the end, the Chains of Satinav becomes the game of players who like to give honor to fairytale and essential gothica alike — here I remark that we would consider this mix of genres almost natural, given the big tradition of both genres in Germany. Think about the Grimm bros or E. T. A. Hoffmann.
There is something to talk about also in regard to gameplay. As things go, point and click style brought a heap of undeservedly glorified crap to the screens. For example, I am disinclined to play anything from Lucasarts in this style (slowly I get to a point where everything else too from Lucasarts becomes blacklisted), because their older adventure games were so full of stupidity in the name of humor that with a spark of common sense one cannot resolve any puzzle.
Of course, a too logic adventure game may mean no challenge, just like the Book of Unwritten Tales. Gimme a good story and some well-wrought characters, then I set game difficulty totally aside.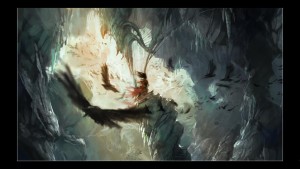 In the Chains of Satinav everything is in its place. The story, the characters and the puzzles, which latter are reasonable but not always simple, because their logic is considered to work between the boundaries of a fantasy world. Sorry, but do not expect full common sense logic in such magical places like a dilapidated fairy world or the locations of a nightmare.
To sum it up: The Dark Eye: Chains of Satinav is a classic game that can count on the attention of a tight class of gamers. It has artistic visuals, bug-free running in vain if the point and click style and gothic fairytale genre aims to please only one gamer from ten. In the same time we get high quality, which means that we can hope the publisher, Deep Silver won't bring itself to the woodshed with it like DTP and THQ did with the Drakensang-series.
—Garcius—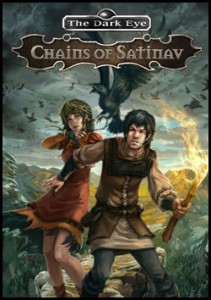 Title: The Dark Eye: Chains of Satinav
Publisher: Deep Silver
Developer: Daedalic Entertainment
Homepage: http://www.satinavs-ketten.de/?lang_new=en&PHPSESSID=ihgh2odcq29c344j5jpclbgg97
Style: point and click adventure
What I liked:
visuals
story
characters
atmosphere
What I didn't like:
no such thing