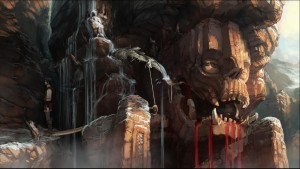 A papíros szerepjáték-világképek egy része újra meg újra feldolgozásra kerül, mint számítógépes játék, és ez nem annyira a rajongók lankadatlan imádatának, mint inkább a világképek telitalálatos voltának köszönhető. Például ma már se szeri, se száma a Forgotten Realms játékoknak, legújabban MMO formájában dolgoznak rajta a Cryptic programhegesztői, és Neverwinter cím alatt jelent meg. Kb. ugyanez a helyzet a The Dark Eye feldolgozásokkal is; a Drakensang Online után 2012-ben megjelent a Chains of Satinav, és felülmúlta a várakozásaimat.
A német The Dark Eye világát már leírtam és éltettem itt egy Drakensang: The River of Time ajánló keretében, úgyhogy nem térek ki rá nagyon. Lényegében egy ma már 30 éves körüli szerepjátékról van szó, amelyet szabályok terén németes precizitás és bonyolultság jellemez, míg világképét tekintve leginkább átlagfantasyként jellemezhető, így nem csoda, hogy valaha német D&D-ként emlegették.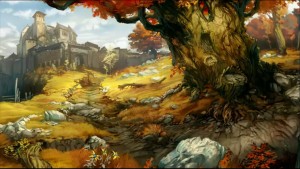 Több szempontból is megörültem ennek a játéknak. Egyrészt a The Dark Eye afféle csendes rajongója vagyok és szívesen barangolok a Drakensang világában, ami számomra valamivel összeszedettebbnek is tűnik, mint amerikai párhuzamai. Legalábbis, fogalmam sincs, hogy miben, de valamiben nagyon különbözik tőlük, hiába tűnik ugyanúgy átlagfantasynek.
Másrészt szintén csendes rajongás fűz a point and click műfajhoz, tehát nem gyűjtöm az ide tartozó játékokat, de a történetmesélés efféle interaktív módja nagyon is kedvemre való, és szeretek az egyes feladatok megoldásán gondolkodni, logikázni. A Syberia mai napig a kedvenceim között van, és a Machinarium is számos kellemes játékórával ajándékozott meg.
Érthető, tehát, hogy azonnal felfigyeltem a két kedvencem találkozására, és nem csalódtam bennük. Emlékeimben a történet nagyjából úgy él, mintha egy fantasy könyvet olvastam volna el, a játék pedig úgy, hogy bár néhol nagyon nehezen jöttem rá a megoldásokra, azok mindig logikusak voltak az adott helyzetben.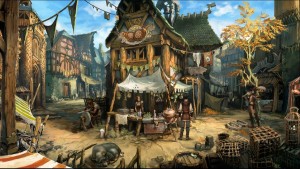 Geron, a madarász segédje elég rossz hírnek örvend, amin az sem segít, hogy folyton összetörik körülötte valami, és részben emiatt tartják elátkozottnak, részben meg azért, mert egy máglyahalált halt Látnok (Seer) arra használta élete utolsó perceit, hogy közölje; Geron hoz majd pusztulást az országra.
Persze, a pusztulást más hozza majd, de egyelőre még Geron elindul tündérvízért az erdőbe, ahol — minő meglepetés — rögtön egy tündért is talál. Persze, Nuri nem az a kis szárnyas, röpködő emberke, hanem egy bűbájos leányzó akkora naivitással, hogy az végül ugyanúgy hozzájárul Andergast királyságának pusztulásához, mint a Látnok tevékenysége.
Tehát adott egy kisinas, egy tündér és egy gonosz. Nem véletlenül egy klasszikus tündérmese szereplői, hiszen a játék egészen olyan, mintha egy klasszikus tündérmesét játszanánk le egy fantasy világképben. Akár még gyerekbarátnak is nevezhetnénk, ha a sztori négyötödénél nem váltana át komor, gótikus stílusba miriádnyi hollóval, rémálmokkal, őrülettel és csontokkal, majd a végén hősi halállal.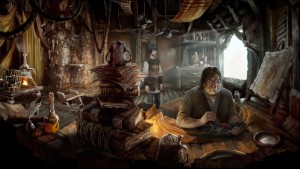 A Chains of Satinav a végére azoknak a játéka lesz, akiktől nem áll távol sem a tündérmese, sem a vérbeli gótika — itt jegyzem meg, hogy akár értelemszerűnek is tekinthetnénk ezt a műfaji ötvözetet, hiszen a németeknél nagy hagyománya van mindkettőnek. Gondoljunk csak a Grimm tesókra vagy E.T.A. Hoffmannra.
A játékmenetet tekintve is van miről beszélgetni. A helyzet az, hogy a point and click stílus számtalan méltatlanul dicsért vacakot hozott már a képernyőkre. Például a Lucasartstól semmit nem vagyok hajlandó játszani ebben a stílusban (lassan másban sem), mert a régebbi kalandjátékaikat olyan hülyeségekkel tömték tele humor néven, hogy értelmesen gondolkodva nem lehetett kitalálni a megoldásokat.
No persze, ha egy ilyen kalandjáték túl logikus, akkor fennáll az veszélye, hogy a játék túl könnyűvé válik, mint amilyen a Book of Unwritten Tales. Persze, egy jó sztori és kidolgozott karakterek esetén mindez nem von le az élvezetből.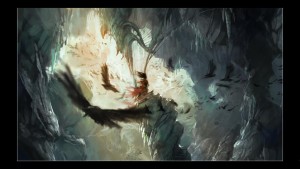 A Chains of Satinav esetében minden a helyén van. A történet és a karakterek ugyanúgy, mint a feladatok, amelyek értelemszerűek ugyan, de nem egyértelműek, mert részben mégiscsak egy fantasy kalandjáték keretein belül logikusak. Azt meg ne várjuk el, hogy a mágikus helyeken, mint például egy pusztulófélben lévő tündérvilágban vagy egy rémálom helyszínein minden a józan paraszti ész szerint zajlik.
Az egyetlen problémája, hogy a The Dark Eye: Chains of Satinav egy rétegjáték. Hiába művészi a grafika és bugmentes a futás, a point and click stílus és a gótikus tündérmese műfaj egyformán rétegközönséget céloz meg. Ugyanakkor kiváló minőségű előadást kapunk, ami azt jelenti, hogy remélhetőleg a Deep Silver kiadó nem fullad úgy be a játékkal, mint a DTP és a THQ a Drakensang-sorozattal.
—Garcius—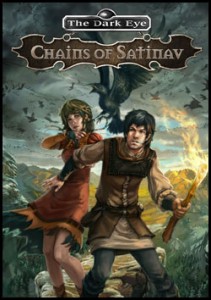 Cím: The Dark Eye: Chains of Satinav
Kiadó: Deep Silver
Fejlesztő: Daedalic Entertainment
Honlap: http://www.satinavs-ketten.de/
Stílus: point'n'click kalandjáték
Ami tetszett:
megjelenítés
történet
karakterek
hangulat
Ami nem:
nincs ilyen