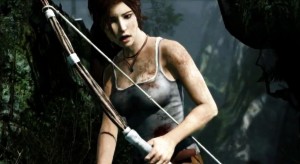 Considering that the story connects them tightly, I decided to review the Crystal Dynamics trilogy of the Tomb Raider series in one block. Good and bad can be said about it in the same time, although on the whole I have a mostly pos opinion. There were some moments when I sent allt the developers back into their mothers for nine months, but all's well that ends well.
Over the hills and far away there was a jumpy-crawly style of games that was born in the ancient times. Today's youngsters mostly doesn't know what they play in real. In those times saving a princess was enough motivation for starting an adventure, and there were no visual effects and story twists, but platformers came alive and conquered the world.Donkey Kong (1981), Mario Bros (1983) and Prince of Persia (PoP, 1989) haven't gone out of fashion for thirty years now – at best, some of them were renewed a little.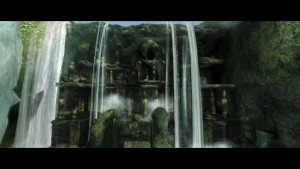 The first Tomb Raider in 1996 had infiltrated this gaming trend, and regarding gameplay it had been similar to PoP. Lara Croft is gifted with the abilities of a goddess, and her first climb-jump-grab-shoot adventure turboed by 3D graphics had been so good that it hadn't only created a brand, but practically it had renewed the whole platformer genre, and it had made the bed for a heap of other games.
I don't go further into the details of history, beícause I don't wanna write a book about the advancement of platformer games. The point is; after changing the developer team Eidos released Tomb Raider: Legend (TR:L) in 2006, and it made its way to me. Continually, Anniversary (TR:A) came in 2007, and Underworld (TR:U) in 2008, and these made a complete trilogy with the first installment. They showed Lara Croft as she "leapt in the tiny room" and met her mother, whom she "missed for quite a while."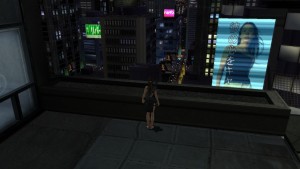 In the intro video of TR:L Lara's mom does exactly what is banned and written on every warning sign at ancient ruins nowadays; touches things and takes them from their places. To be more exact, it is a stone sword, or – not incidentally – the key to the gates of Avalon. After the event her daddy, Sir Richard James Croft frantically searched the method of getting in and bringing the milf back, which activity lead to a family entertainment of robbing artifacts from among ancient ruins, taking all kind of dangerous chances, of course.
Broadly, this is the base that TR:L builds on. Then the fun comes: You squirm through ruins filled with chasms and handholds, and you disable several thousands of years old trap systems decorated by the motifs of ancient cultures, besides shooting all the soldiers of the Great Enemy, who arrives on schedule on almost every level.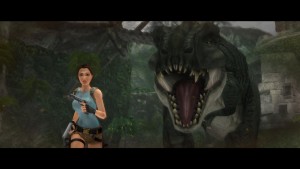 Ranking it on a scale of ten: morality is zero, consistency is zero, gameplay gets ten, graphix is… ehhrr… let's say the backgrounds are gorgeous, but poor Lara is so cragged that she doesn't always fit into the picture. I give seven per ten to the visuals of the game, because it isn't so disturbing as it seems for the first time. The first two mean a much bigger problem.
Morality is important, because in the case of an ESRB 10+ game I don't look after a main hero that kills app. Twenty opponents on every level. Consistency is another grave thing for me, because I used to expect some in a proficiently made game. For example; enemies are running around places easily where I barely jumped-crawled through with Lara the half-goddess.
Anyway, speaking about the whole trilogy, consistency is not the strongest point of these games. Inexplicably placed predators are charging you in pairs, sometimes panthers and gorillas in the same time – the question is not only that how can they be in accord to kill you, but how did they survived? I hardly believe it all when matured big felines are attacking out of barred tiny wall cabins in the depths of ancient underground ruins. Or when Lara jumps through a non-walkable corridor, and going back she meets a raptor from out of thin air. Or when Lara fights-jumps-crawls through herself a whole level just to meet another treasure hunter who simply walked through all the hardships? There are numberless examples like these in the series, and consistency never makes a game more enjoyable.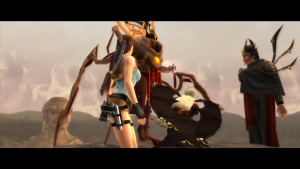 Secondly, Tomb Raider: Anniversary is typically the game that could be left out by the developers as well as by the players. It was profitable only for the publisher. This is… a heap of crap. All right, this is the remake of the first TR game, I accept that. What's more, they built the series on a way that this no-story-only-levels something fits into the middle of the trilogy.
But! It is nice to remember and being loyal to the great ancestor, but it doesn't always goes off well. The same dry, musicless and storyless game that renewed a genre in '96 is not appropriate to be swallowed by the audience of 2007, particularly because of the several great tales produced by the platformer genre too. Furthermore, the controls are so strange that sometimes my keyboard imagined itself a joypad, because you need a wickedly mutated hand for the industry settings. At last I successfully set everything up, but after the smoothness of Legend I simply couldn't interpret this agony with the controls.
I don't wanna waste more words on it. I only make a remark about it; at three-quarter of the game I barely hold myself back from deleting at at all. I dauntlessly carried it on, and at the end I didn't regret it, because TR:U successfully repaired the renomé of the series.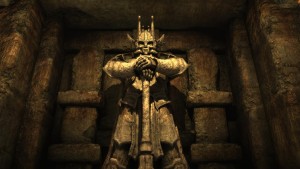 The greatest flaw of Underworld is being the third part of a trilogy, so having no independent storyline. Although, there are much less inexplicably surviving predators on the levels; big games are mostly on open terrains, while the depths of the ruins are swarmed by undead and giant spiders. Another consistent circumstance is the so much needed aqualung in the high-tech equipment, which was another inexplicably missing element from the games before.
Veritix was so kind to tell me his opinion about not enough thinking and smaller levels in the newer TR games than in the older ones. Well, it can be said for Legend, but Underworld falsifies it. You can jump around for hours on each terrains, and several puzzles are confusing and hard to solve. If I compare it to the remake of the first TR game in history, Anniversary was much easier to complete – however, this genre becomes more entertaining by being harder, so the difficulty of the game is not on the list of drawbacks.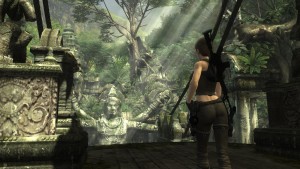 We don't know exactly what future holds for the series. A Lara Croft and the Guardian of Light was released, and even if it was developed in the studio of Crystal Dynamics, its title shows that it is not strictly in the TR brand.
Since the trilogy, Eidos merged into Square Enix, which company plans to release the newest installment in 2013; this will be a reboot in which Lara loses a lot from her superhero position in gaming history. She will rather be a suffering human being, and this pushes the platformer a bit toward survival (horror) genre. Some of the oldtimer fans are already freaked out – in my opinion we should wait for it, look at it, then we can give it the praise or pity or scorn it deserves.
—Garcius—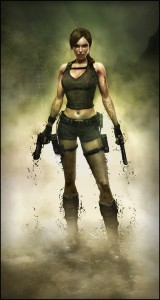 Publisher: Eidos Interactive (Square Enix)
Developer: Nixxes Software (PC)
Homepage: —
Style: platformer, action, adventure
What I liked:
gameplay
puzzles
What I didn't like:
general inconsistency