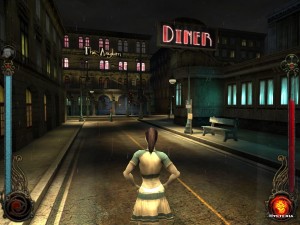 Sohasem értettem, hogy egyes játékokból miért nem lehetett sorozat. Adott egy egyedi világkép, egy jó rendszer és olyan karakterválaszték, amely más játékokban sokkal gyérebb. Mi több, mindezek számos olyan lehetőséget rejtenek magukban, amelyet egy, három, de talán még öt játékkal sem lehet teljesen kiaknázni. Az átlagosan mindenhol 80% körüli értékelést kapott, aranylemezes Bloodlines is csupán szűkös kivonat a nagy egészhez mérve, ám ennek ellenére megáll önmagában.
Külsőségeiben a World of Darkness egyáltalán nem különbözik a mi kis emberi világunktól. Azonban a mélyben már nem találunk mást, csak a sötétség teremtményeit és az általuk szőtt intrikák végtelen hálóit. Minthogy a különféle lények részben rajtunk, embereken élősködnek vagy minket használnak rejtőzködésre, esetleg más okból van szükségük ránk, így mi, emberek viszonylag biztonságban érezhetjük magunkat.
A túlélés alapvető törvényei egyszerűek: a titoktartás és az emberség megőrzése mellett nem árt kiismerni a hatalmi viszonyokat. A vámpírok szigorú törvényeket vezettek be a "születésszabályozást" és a rejtőzködési elvek fenntartását illetően, ezért kevesen vannak — és mivel kevesen vannak, jobb titokban tartani létüket, hiszen nem halhatatlanok, és ha minden fegyveres szerv vadászni kezd rájuk, akkor nem húzhatják sokáig.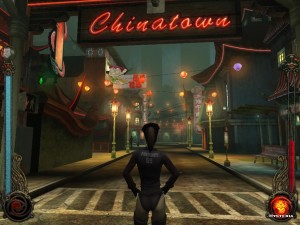 Felejtsd el a fokhagymát, és a karó is csak bénulást okoz, nem fejezi be, amit a természet elkezdett. Nem kell koporsóban aludni és ugyancsak nem ajánlott szárazra szívni a járókelőket az utcán. Kicsit afféle Interjú egy vámpírral (1994) világkép ez, de jóval komorabb, sötétebb és horrorisztikusabb, 2004-re datálva.
A Bloodlines alapvetően a számítógépes szerepjátékok közé sorolandó be, ezen belül pedig horror elemekkel dúsított TPS/FPS akció-kalandjáték is egyben. Ez így elég bonyolultnak hangzik, de valóban mind benne van.
Akció-kalandjáték, mert a karakterfejlesztés során kénytelen vagy tenni néhány pontot a harci jellemzőkre is. A feladatok többségében cselezhetsz, kidumálhatod magad egy-egy helyzetből, avagy előfordul, hogy lopakodva teljes mértékben elkerülheted a harcot. Azonban néhány küzdelem elkerülhetetlen, és bizonyos helyszíneken borzasztó nehéz harc nélkül átjutni.
A TPS/FPS besorolást az biztosítja, hogy egyrészt kedved szerint váltogathatod a kettőt, és lövöldözni általában belsőnézetes, tehát FPS módban javasolt. Ez ugyan nem lenne nagy novum, hiszen számos más játék is biztosítja ezt a lehetőséget. Azonban a karaktered fejlesztésétől és a személyes játékstílusodtól függően akár komoly FPS-t is varázsolhatsz a játékból.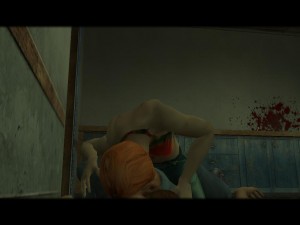 Mivel vámpírt játszol, adja magát, hogy a horrorelemek is felbukkannak a játékban. Ez a műfaj nem itat át minden pillanatot, tehát kimondhatjuk, hogy a játék majdnem mentes a hatásvadászattól (van egy pont, ahol harmadszorra is megijedtem, ámbár nem a "horrorság" miatt, szóval mégis akad legalább egy hatásvadász mozzanat). Persze, többnyire mégis a horror környékén oldalgunk, a különféle küldetések többsége kapcsolódik a műfajhoz.
Mint például a nem kicsit őrült művégtag-készítő esete, vagy a nyomozás egy gyilkolászó szörnyeteg, illetve egy misztikus vámpírbetegség után. Vagy épp a hivatalos forgalmazókhoz sohasem kerülő horrorvideó ügye, majd utána a Nosferatu rejtekhely felkutatása, amely szerintem az egyik legnehezebb feladatsort biztosítja a játékban. Ennél többet inkább nem árulok el… de muszáj: előfordul, hogy zombi apokalipszist kell megakadályoznod… Na jó, tényleg nem kaptok többet!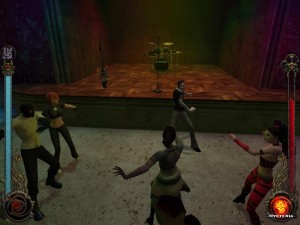 Ám a lényeg még kimaradt: ez bizony vérbeli CRPG. Ugyan a karakterkészítés kicsit kötött, de ez egyáltalán nem zavaró, és a fejlesztés során érdemes legalább átlagosra feltolni valamelyik harci képességet (verekedés, közelharci fegyver vagy lőfegyver használata), de ezek mellett teljesen egyénivé teheted a karaktered anélkül, hogy csorbítanád a hatékonyságát. Azonban "hatékonyság" szó alatt nem csak a harci teljesítményt értem.
És ha már hatékonyság, akkor nem mehetünk el szó nélkül a Bloodlines változatossága mellett. Nem annyira a négy különböző városnegyed és az egyes harci terepek változatosságáról van itt szó — hiszen ezek unalmassá válhatnak a többszöri végigjátszás során —, mint inkább a karakterekéről.
Szerepjátékként a Bloodlines majdnem teljes mértékben teret enged az egyéni képességek kihasználásának. Lopakodhatsz láthatatlanul, gyorsabb lehetsz a rád lőtt töltényeknél, és például hangsúlyosabbá teheted az "őrült domina" kifejezést. Ez utóbbival elmékben turkálsz és csábítással, meggyőzéssel, megfélemlítéssel vagy épp természetfeletti befolyásoló erővel győzöl meg embereket magad körül, hogy jobban teszik, ha engedelmeskednek.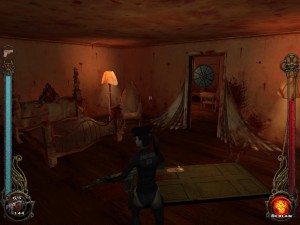 Szóval vámpírnak lenni nagy buli, és itt minden erről szól. Meg arról, hogy vámpírként minden pillanatban közelebb állsz a halálhoz, mint a hétköznapi emberek. Azt hiheted, hogy már nem kell félned a haláltól, hiszen élőholt vagy, aki a sérülések többségéből marha gyorsan felgyógyul, sőt, némi vér segítségével még gyorsabban, de tévedsz. A vámpírokat is fenyegeti a végső halál réme, amely könnyen eljöhet, ha egyszerre túl sok sérülést szenvedsz, ha rád gyújtanak egy roncstelepet, vagy épp a környéken vadászó vérfarkasnak sikerül megharapnia. Ez utóbbi nagy, ronda, és végtelenül gyűlöl téged, mint vámpírt.
Szóval vámpírnak lenni nem csak jó buli, de veszélyes is egyben. A dementálódott Tzimisce teremtményei vagy a kínai életfalók (vámpírfélék, de más háttérrel és hiedelmekkel) elég durva seggberúgásban részesíthetnek, hogy csak két példát említsek.
Arról nem is szólva, hogy milyen rossz helyzetből indulsz szociális téren. Nagyjából az egész vámpírtársadalom legalján állsz, szülő nélküli (őt kivégzik) lótifuti vagy, aki csak a saját képességei segítségével juthat feljebb a ranglétrán. Megítélés tekintetében épp csak egy hajszálnyival vagy a mocsokban fetrengő, apokalipszisváró Szabbat-vámpírok felett, akik persze rendszeresen próbálnak eltenni láb alól.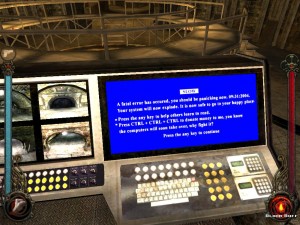 Körülbelül mindenki utál, különböző okokból, de ha ügyes vagy, akkor kivívhatod a tiszteletet vagy a megbecsülést. Mindkettőt talán semmiképpen sem, de ez a vámpírtársadalom intrikus jellegzetessége, és nem a játék hibája.
Technikai oldalon az egyenlet a szokásos: Troika Games = zseniális játék + legalább száz bug. Érdemes gyakran használni a gyorsmentést, mert egyes jelenetekben beakadnak a karakterek, egyes szellőzőjáratokba borzasztóan nehéz bejutni (pedig a rácson fel lehet mászni, csak a lyukat nehéz eltalálni), és még sorolhatnánk.
Még szerencse, hogy a játékélmény könnyedén feledteti mindezeket.
—Garcius—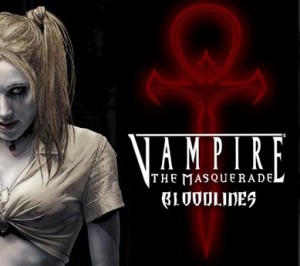 Cím: Vampire: Tha Masquarade — Bloodlines
Kiadó: Activision
Fejlesztő: Troika Games
Honlap: —
Stílus: "modern day", CRPG, természetfeletti horror
Ami tetszett:
World of Darkness
szerepjáték-alapú
történet
Ami nem:
százféle bug