Bár ez a cikk afféle ismertetőnek készült, sajnálatos módon nekrológgá vált. Az All Points Bulletin (APB) majdnem jó játék lett, de a nyitás után néhány hónappal megszűnt létezni. Szóltak a hírek 130 000 regisztrált játékosról, lehetséges felvásárlásról és hasonlókról, majd végül, szeptember közepén már a zárásról. Röviden ennyi.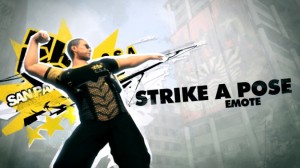 Megesik néhanapján, hogy még az elvakult fantasykedvelők is megcsömörlenek a műfajtól, így aztán könnyedén előfordulhat, hogy jelentkeznek egy-egy másfelé kacsintgató béta tesztre. Velem is ez történt, miszerint a naponta új gyümölcsöt termű fantasy MMO piactól meghátrálva beikszeltem magam az APB bétájára.
Be is válogattak, szóval kissé furcsán jött ki, amikor a béta második hullámának kezdetétől (kaptunk plusz egy továbbadható béta kulcsot) játszó hülyegyerek nagyoskodni kezdett, hogy "ő már az első nap óta ott van". Mindegy, apró kitérő, nem is túl fontos, bár azért megmutatja, hogy hiába volt más jellegű a játék, ugyanolyan f*szkalapokkal lehetett találkozni, mint a többi MMO-ban.
Lenne még mesélni való az ilyenekről, de inkább visszatérek az APB-hez. Fogalmazzunk úgy, hogy nem volt tökéletes. Nem akarom nagyon leszólni, mert viszonylag élveztem, csupán az én személyes problémám, hogy hamar megunom az egysíkú játékokat.
Azonban, ha neked tetszettek a GTA 4 90%-ban üldözős-lövöldözős küldetései és hajlandó vagy próbára tenni magad más játékosokkal szemben, akkor ez is bejött volna. 100%-ban üldözős-lövöldözős a dolog, csak el kellett viselni, hogy tele van apróbb-nagyobb melléfogásokkal, és így még élvezetesnek is számított. Én azért tudtam elszórakozni vele, mert egy ideig eltekintettem a problémák felett.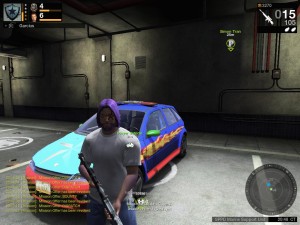 Egy részük összefoglalható egy mondatban: ha képes vagy másodpercenként ugrani és minél több golyót kiköpni, akkor sikeres leszel.
Mert hát hogyan lehetett jobb a pontatlan és gyenge kis SMG a halálpontos és brutális sebzésű mesterlövészpuskánál? Úgy, hogy a géppisztoly okádja a lőszert, a mesterlövészpuska meg szart sem ért, mert a kedves fejlesztők nem programozták bele a távcsövet a játékba. Hiába a komoly hatótáv, enyhén szólva problémás volt, amikor az én kis hatéves monitoromon, 1024-es felbontásban kb.: hatpixelnyi méretű fejet kellett volna eltalálnom, amelyik ráadásul ugrált is. Esélytelen.
Ugyanakkor az SMG-vel csak közelebb kellett férkőzni az ellenfélhez, jól megszórni, és már zsebelhetted be a jutalmat. Na igen, a fejlődési rendszer végleg betette a kaput. Amikor órákon keresztül képtelen voltam pontot szerezni a fejlődéshez, kissé megorroltam a játékra és készítőire.
Az APB jutalmazási rendszere kétféle pontértéket használt. Egyik sem szintlépés-jellegű: a besorolás (Rank) és a szervezeti pozíció (Organization Standing) értéke egyformán a beszerezhető cuccokat és járműveket határozta meg. Egy harmadik jutalmazási mód, a tapasztalati pont (Experience Point) csupán azt mutatta, hogy egy adott szervezeten belül milyen rangban állsz az összekötődnél. Ha ezt a rangot feltoltad 6-osra, mehettél a következő, a szervezeti ranglétrán egy lépéssel magasabban álló összekötőhöz.
A számomra érthetetlen dolgok egyike az, hogy a szervezeti pozíció miért nem növekedett, amikor eredményesen hajtottad végre egy-egy összekötő feladatait? Logikus lenne, nem? De itt a szervezeti pozícióra csak akkor kaptál pontot, ha megsebzel vagy megöltél egy másik játékost. (Most tekintsünk el a moralizálástól.) A gyilkosság 9 pontot ért cuccoktól és besorolástól függetlenül, ami pedig azért furcsa kissé, mert ugye a sajátodnál kétszer-háromszor nagyobb besorolású ellenfélnek sokkal gyorsabb járgánya és jobb fegyvere lehetett, mint neked — arról nem is beszélve, hogy nyilvánvalóan tapasztaltabb volt nálad.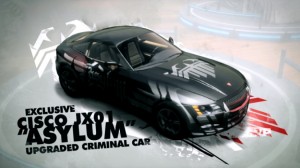 Márpedig a gép szívesen összehozott náladnál kétszer-háromszor, vagy épp akár négyszer magasabb besorolású ellenfelekkel. Egyébként pont ez nem zavart. Az alapvetés szerint rendfenntartók és bűnözők háborúznak az utcán, és személy szerint nekem belefér, hogy (a szintkülönbség érzékeltetése végett) Piszkos Harry lepuffantson egy zsebtolvajt. Megjegyzem, volt esélyed a tapasztaltabbak ellen, pontosabban csapatban volt valamennyi, ha máshogy nem is — de az kissé szemétség a játékossal szemben, hogy 5 (sebzés) és 9 (gyilok) pontból kellett összegyűjteni százakat, illetve később ezreket ahhoz, hogy előbbre juss.
Bár ezzel hatásosan kizárták az MMO-kban divatos "powerlevelling" lehetőségét (amikor a csapatod egy nálad erősebb tagja intézkedik helyetted, de te is részesülsz a jutalomból), ugyanakkor keményen büntették a kezdő karaktereket és a gyengébb képességű játékosokat.
Sőt, ez részben a stílusosság kárára ment. Például én szeretek kényelmesen játszani, ezért mesterlövészpuskára hajtottam, ami igen lassú fegyver, de messziről is le lehet szedni vele egy-egy ellenfelet. De ahogy fentebb említettem, kiderült, hogy nincs nagyítás, távcső, stb. és ugyanúgy célzol vele, mint például egy pisztollyal, csak éppen a hatótáv miatt jóval messzebbről, jóval kisebb célpontokra.
Persze, az ellenfelek nem álltak eléd, hogy lepuffantsd őket. Nyilván nekik is számít a győzelem és a vele járó fejlődés, így inkább ők intéztek el, ha lehetőségük adódott rá… kivéve néhány esetet. Meglepett, rá is kérdeztem, és egészen közlékeny volt az illető, aki úgy szaladgált előttem fedezékből-fedezékbe, hogy közben nem lőtt vissza. Kétszer magasabb besorolással rendelkezett, és szerinte ez így sportszerű. Szerintem is.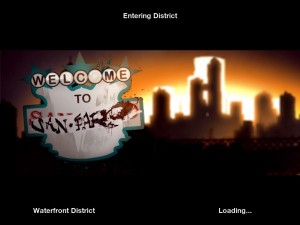 Ideillik a megjegyzés, hogy a meccsek akkor váltak érdekessé, ha minél többen játszottuk őket. Lehetett autós üldözés vagy bármiféle lövöldözés, akkor kezdődött az igazi móka, ha a rendfenntartók és a bűnözők is legalább ketten-hárman voltak.
Kifejezetten látványos és élvezetes, amikor két bandajárgány és két hasonlóképpen felmatricázott-agyondekorált rendőrautó (a karakter és a járművek külsejét teljes mértékben egyedivé tehetted) egymást kergeti a forgalmas utakon, miközben az ablakokból fürtökben lógnak a haverok és alkalmi társak, hogy egy-egy jól irányzott lövéssel már menet közben aláfűtsenek az ellenfélnek.
Momentán még két dolog jut eszembe, egy hiba és egy erény: a szaggatás és a zene. A béta során számtalan panaszt olvastam a chatben arról, hogy szaggat, és ez értelemszerűen azt jelentette, hogy géptől függetlenül akadozott a grafika. Nálam is, de az én gépem félig csupán a minimum követelménynek felelt meg, és eleve számítottam rá, hogy nem fog simán futni. Ennek ellenére többnyire tudtam vele játszani.
A zene viszont a pozitív oldalra került a mérlegen, ugyanis az alkotók nem sokat tököltek a komponálással. A több órás listában összesen két vagy három szám erejéig csendült fel a játék hivatalos zenéje, a többit megvették mindenféle együttesektől. Számos műfajból válogathattál, és ha még ez sem elég, saját zenét is felvehettél a listára. Mi több, beállíthattad az autód hangszóróit úgy, hogy a körülötted lévők is hallják, amit éppen hallgatsz.
Személy szerint én nem tudtam állást foglalni az APB ügyében. Nem volt rossz, de nem is éreztem annyira jónak, hogy ráálljak. Az eddigiekben próbáltam átadni a játékról bennem élő képet, és már csak annyit kell megemlítenem, hogy az előfizetés tekintetében nem havi volt, hanem "pay for play" konstrukcióval kísérleteztek. Ez azt jelenti, hogy nem egy adott időszakra, hanem a szervereken bejelentkezve töltendő játékórákra (20, 50, stb. órára) fizethettél elő.
Az előfizetési rendszer hiába vonzotta a játékosokat, a cég (Realtime Worlds, RW) mégis bebukott. A nyáron 130 000 játékosról híreztek, ami akár csak a húszórás előfizetés hét dolcsijával számolva is közel egymilliós bevételt (természetesen nem tiszta hasznot, hanem összbevételt) jelentett. Alig néhány hónap alatt, hiszen tavasszal még bétáztunk — ám ez kevésnek bizonyult.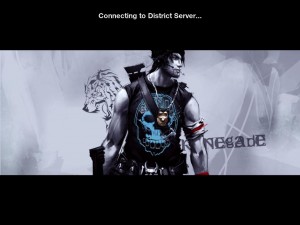 Július elején még arról olvashattunk, hogy milyen nagyszerűen fogadta a közönség a játékot és milyen simán elindították. Sőt, az RW újabb munkásokat vett fel, hogy, idézem, "100%-os támogatást biztosítson a játékosoknak".
Augusztus közepén (13-a) már kiszivárgott kimutatásokról szóltak a hírek és arról, hogy a Realtime Worlds fél lábbal a csőd szélén áll, mert túl sok pénzt ölt a fejlesztésbe és nem jött elég játékos. Felmerül a kérdés, hogy mégis mit vártak, amikor a játék egysíkú volt és folyton szaggatott, ráadásul a szóbeszédek szerint simán megszállták a hackerek és a modderek? Nem mindenki olyan türelmes/elnéző a bugokkal szemben, mint én.
Vajon pénzügyileg mire számítottak? Az APB fejlesztése nagyon sokba kerülhetett, de számomra teljesen irreális elképzelésnek tűnik, hogy a fejlesztők rögtön a kiadás után vissza akarták kapni a beleölt többmilliós összeget.
Volt olyan hír, hogy a cég el akarja adni az APB-t, sőt, vevő is lett volna rá. Állítólag vagy háromszáz érdeklődőt is találtak (számomra hihetetlen a szám, de nem én írom a híreket), de ezek egyike sem "gondolta úgy, hogy élő projektet venne". Alig néhány nappal a fenti hír után (augusztus 17-én) hivatalosan is bejelentették a csődöt. Bezártak ajtót-ablakot, és csak egy kábé 50 fős stábot hagytak meg a szerverek fenntartása-karbantartása végett.
Végül, egy hónap múlva, 2010. szeptember 17-én kihúzták a dugót. A tanulságot mindenki vonja le maga, én csupán összegzem: középmezőnyös cég nagy ambíciókkal, felelőtlen adóssághalmozás, képességeket felülmúló vállalás, ebből fakadó gyenge megvalósítás, gyér képzelőerő (a küldetésrendszer nagyjából öt feladatot ismételt), túl kicsi durranás, csőd, egyszervoltholnemvolt.
Ezúttal eltekintek a szokásos tetszett-nemtetszett részletektől és az értékeléstől, hiszen a játék már halott.